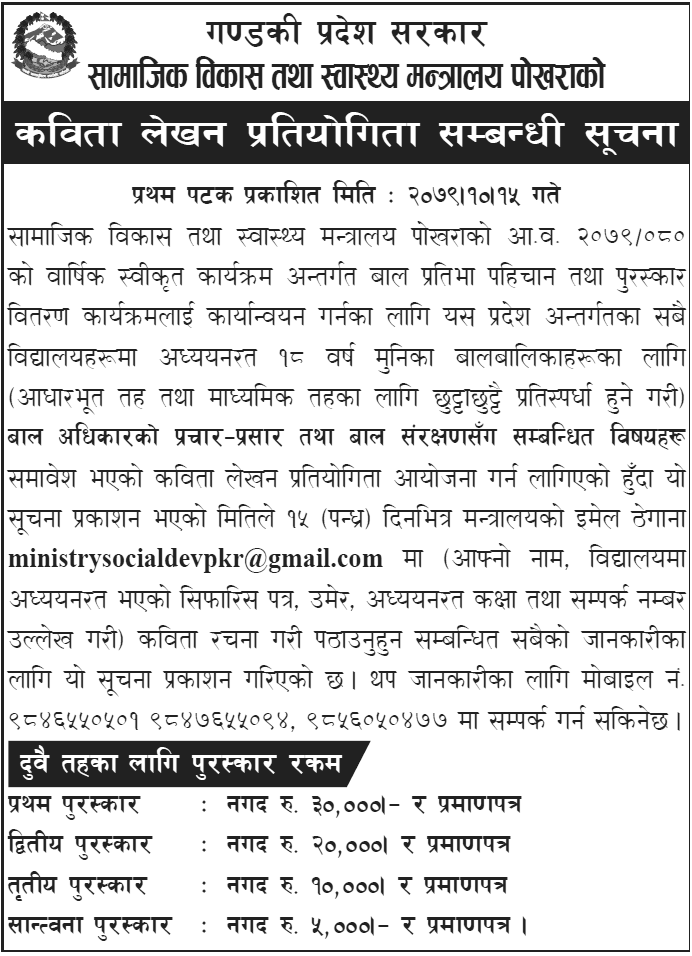 Government of Gandaki Province, Ministry of Social Development and Health, Pokhara Notice regarding the poetry writing competition
Under the annual approved program of the Ministry of Social Development and Health of Pokhara for Fiscal Year 2079/080, to implement the child talent recognition and prize distribution program for children under 18 years of age studying in all schools under this province (with separate competitions for primary level and secondary level) A poetry writing competition is going to be organized with topics related to rights promotion and child protection.
Within 15 (fifteen) days from the date of publication of this notice, compose a poem and send it to the Ministry of Social Development and Health Pokhara's email address [email protected] (mentioning your name, letter of recommendation, age, class and contact number) This notice is published for information.
For more information, you can contact mobile number 9846550501 9847655094, 9856050477.
Prize money for both levels
First Prize: Cash Rs. 30,000 and a certificate
Second Prize: Cash Rs. 20,000 and a certificate
Third Prize: Cash Rs. 10,000 and a certificate
Consolation Prize: Cash Rs. 5,000 and a certificate.a
First published date: 2079-10-15
Gandaki Pradesh