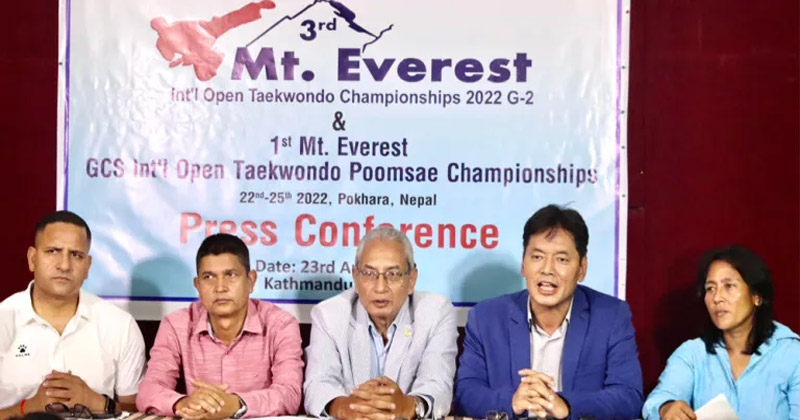 "Third Mt. Everest International Open Taekwondo Championships" G-2 ranking and "First GCS Mt. Everest International Open Poomsae Championship" are being held in Pokhara from 22nd September 2022. Organized by Nepal Taekwondo Association, the competition will be held in the multi-purpose covered hall at Pokhara Stadium till 25th September 2022.
Jagan Gurung, secretary of the original organizing committee, informed that 1,425 players from 13 countries have come to Pokhara to participate in the competition. According to him, such a large number of participants for a single game is the first in the history of Nepali sports. In the competition, there will be competition in different age groups for seniors and juniors.
Prakash Shamsher Rana, the organizer of the Nepal Taekwondo Association, informed that in the competition, women and men from 14 years to 60 years old will compete in eight weight groups, and for Poomsae, singles, pairs, and groups from 14 to 60 years old will compete.
It is said that the president of World Taekwondo, the umbrella organization of the Taekwondo Federation, Dr. Chou Chung On, and the president of the Asian Taekwondo Federation, Likyu Siok, will come to Pokhara for the competition. The organizers estimate that more than 2,000 players, referees, and coaches from around the world, along with special officials of the Taekwondo Federation, will participate.
According to the association, more than five thousand taekwondo lovers are expected to come to Pokhara to watch the world-class mega taekwondo competition. The competition, which has been successfully held twice in Kathmandu, was postponed for two years due to the global epidemic of Covid-19.
Sports