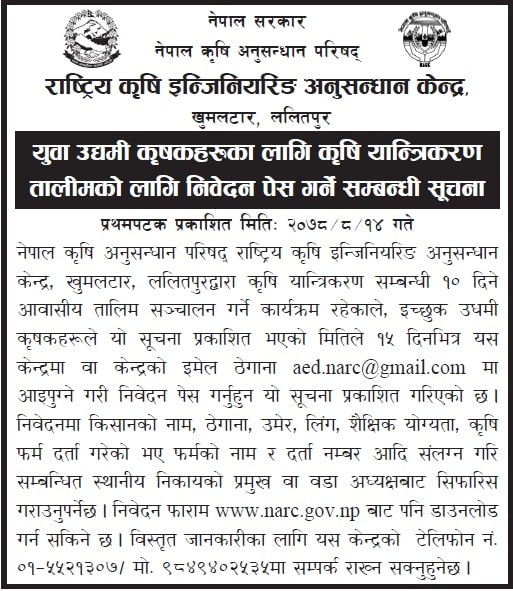 Government of Nepal, Nepal Council of Agricultural Research, National Center for Agricultural Engineering Research, Khumaltar, Lalitpur notice regarding submission of application for agricultural mechanization schedule for young entrepreneurial farmers
As the Nepal Agricultural Research Council, National Agricultural Engineering Research Center, Khumaltar, Lalitpur is conducting a 10-day residential training program on agricultural mechanization, interested aspiring farmers can reach this center or the center's email address [email protected] within 15 days from the date of publication of this notice. This notice has been published for submission of application.
The application should include the name, address, age, gender, educational qualification of the farmer, if the agricultural firm is registered, the name of the firm and registration number etc. should be attached and recommended by the head of the concerned local body or ward chairperson. The application form can also be downloaded from www.narc.gov.np. For detailed information you can contact this center on telephone number 01-5521307 / Mobile No 9549402535.
First published: 2078-8-14
Free Training
Training