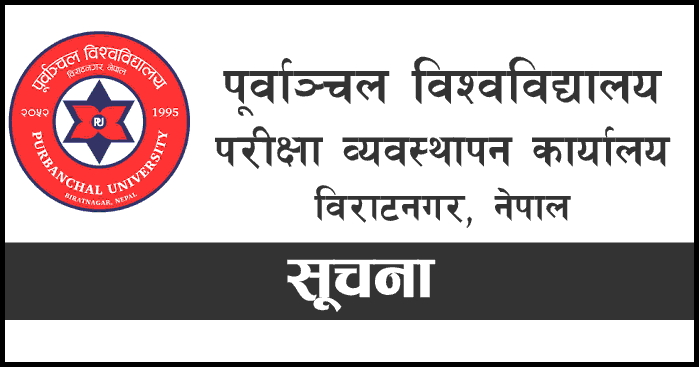 Purbanchal University, Gothgaon, Morang Information regarding filling the application form to participate in the tenth graduation ceremony
Due to the increasing outbreak of Covid-19 worldwide at the 10th Convocation Ceremony to be organized by Purbanchal University on Sunday 23rd February 2078; According to the decision to include only undergraduate and postgraduate medal winners in this year's convocation; Students who have been enrolled in various groups (batches) included in the Gracelist of Tenth Convocation Ceremony and have passed the corresponding level and have taken transcripts from 17th Poush 2075 accordingly (01st January 2019) to 16th Poush 2078 accordingly (31st December 2021). This information has been published for the information of all concerned by submitting the application form in the following manner by the representative of the concerned campus in the Examination Management Office, Biratnagar, or by the student himself/herself by 2078-10-09 accordingly (January 23, 2022). Has been done. Things to consider when filling out the application form:
(1) To get the certificate of the graduation ceremony. Application forms can be obtained from Examination Management Office, Biratnagar, and related campuses. Also, the said application form can also be downloaded from the Examination Management Office's website www.puexam.edu.np.
(2) The application fee for the postgraduate level along with the certified copy of the transcript along with the application form is Rs. 3,000 and the application fee for graduation is Rs. 2,500 Call A / C No. 0706010310803 of Nabil Bank Ltd. in the name of Examination Management Office. by depositing the lump sum fee through the concerned campus and sending the gross bank voucher along with the student's name by 2078-10-11 accordingly (January 25, 2022) to reach this office compulsorily. In addition, the application form can be registered within the specified date by depositing the above-mentioned fee amount in the above-mentioned bank account in the presence of the student himself or also through the representative.
(3) In the case of students who have not applied within the stipulated time to obtain the certificate of graduation ceremony after passing the level as per the above-mentioned information, Rs. 3,000 and Rs. 2,500 Fee will have to be paid.
(4) The detailed program of the graduation ceremony will be published later on the website of the Examination Management Office.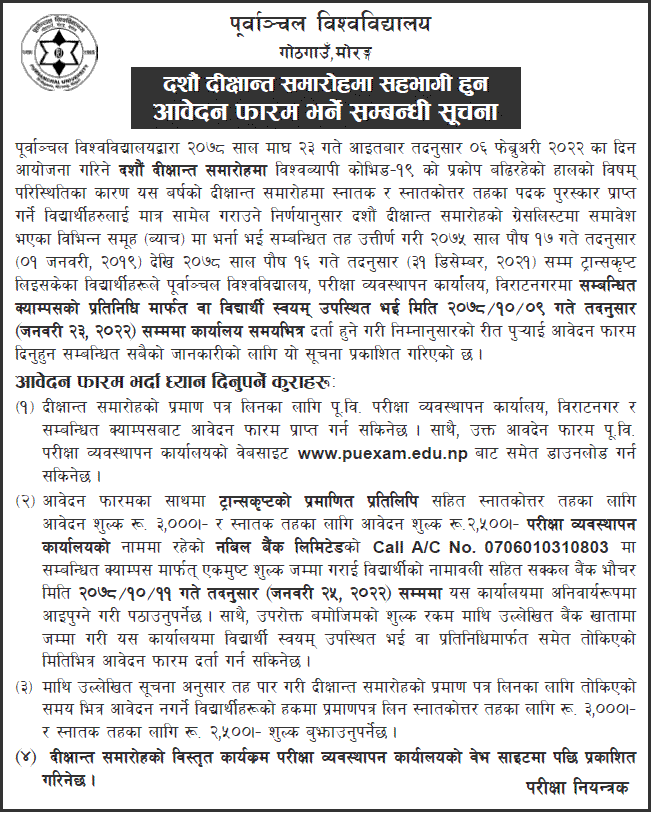 Notice
Morang
Biratnagar