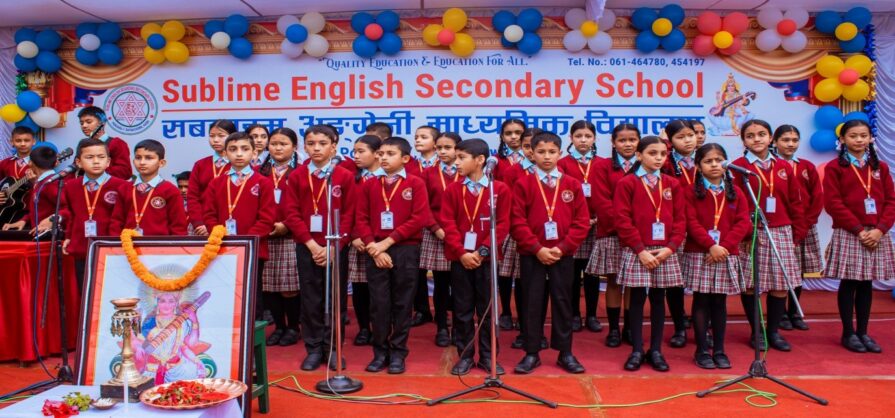 27th Anniversary and Parents Day Celebration of Sublime English Secondary School in Pokhara
Sublime English Secondary School, located in Pokhara 7 Ratnachowk, recently celebrated its 27th anniversary and Parents Day. The event was inaugurated by Narayan Prasad Subedi, Head of Education Development and Coordination Unit Office.
Importance of a Holistic Approach to Education
In his speech, Subedi emphasized the importance of a holistic approach to education. He suggested that schools should not only focus on academics but also conduct classes in subjects such as sports, music, art, and dance. He also stressed that schools should emphasize reading according to the interests and abilities of students.
Parent-School Partnership
Rammohan Acharya, the chairman of Pokhara 7, expressed his willingness to cooperate in every work done by the school. He emphasized the importance of a strong partnership between parents and schools to ensure that students receive the best possible education.
Praise for the School's Achievements
Krishna KC, the Central Vice President and Gandaki Province in-charge of Pabson, praised the school for its achievements in a short period. Laxman Devkota, the director of the National Examination Board Gandaki State Office and a parent of the school, mentioned that he has been with the school since its inception.
Recognition of Outstanding Students and Staff During the celebration, outstanding students, teachers, and staff who have served the school for a long time were recognized and rewarded.
Cultural Program and Release of Sublime Darpan
The event also featured a performance by folk singer Ramji Khand and a cultural program coordinated by Ram Lama, the school's dance instructor. Sublime Darpan, the school's mouthpiece, was also released on the same occasion.
The anniversary and Parents Day celebration of Sublime English Secondary School in Pokhara was a grand success. The event highlighted the importance of a holistic approach to education and emphasized the need for strong parent-school partnerships. The recognition of outstanding students and staff and the release of Sublime Darpan made the event even more special.
Annual Day
Pokhara