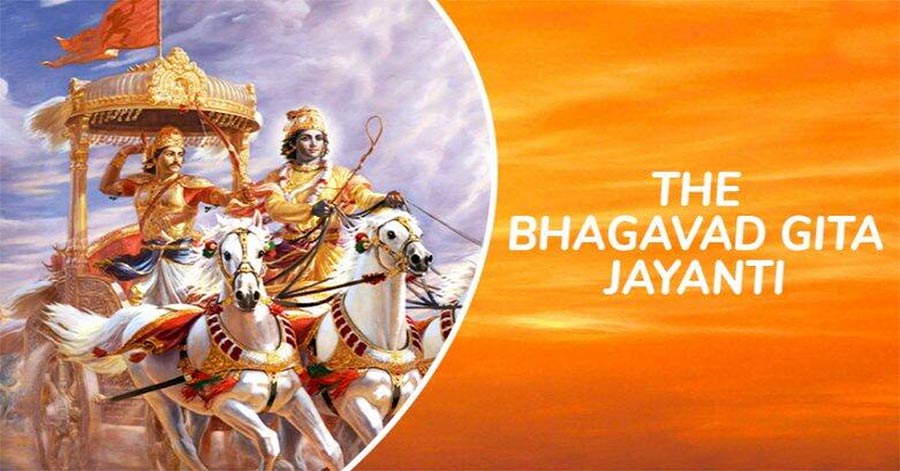 Today Celebrating Gita Jayanti Festival:
The Gita Jayanti festival is being celebrated today with various programs including recitation and discourses to commemorate the day when the religious text of Vedic Sanatan Hindu religion, Gita, appeared.
Various programs are being organized on the occasion of Gita Jayanti with the objective of passing on Vedic knowledge to future generations. Krishna, who was born on earth as the eighth incarnation of Vishnu during the Mahabharata war between the Kauravas and the Pandavas on the day of Margashirsha Shukla Ekadashi five thousand 128 years ago, is believed to have revived the Gita knowledge in Kurukshetra through Arjuna.
Prof. Dr. Ram Chandra Gautam, a theologian and chairman of the Nepal Panchang Adjudicating Committee, said that the Gita was the scripture recited by Lord Krishna when Arjuna was not ready to fight against his relatives during the 18-day Mahabharata war in Kurukshetra. "At that time, Kaurava had 11 Akshayoni armies. Pandava had seven Akshayoni armies. Lord Krishna was on the side of Pandava. As Arjuna's charioteer.
Kumar Adhikari, chairman of the Zier Educational Foundation, said that out of 1,131 branches of the four Vedas, only 12 are currently in existence and programs are being organized for public awareness so that the knowledge of the Gita does not disappear like the others. It is said that due to the Corona epidemic, many people could not hold the program this year as in the past, but the program including the discourse is being conducted through various media.
"Currently, two of the 21 branches of the Rig Veda, four of the 101 branches of the Yajurveda, four of the 1,000 branches of the Sama Veda and only two of the nine branches of the Atharva Veda are available. Others have disappeared. Said.
The Foundation has been celebrating Mokshada Ekadashi, or Gita Jayanti, for seven years now. Similarly, a program has been organized at Geeta Mandir Swayambhu today. Similarly, the World Hindu Federation is going to organize a program in the capital on Friday on the occasion of Gita Jayanti. On this occasion, Gita lessons and other programs will be held in various temples. The Gita discusses devotion, knowledge and asceticism.