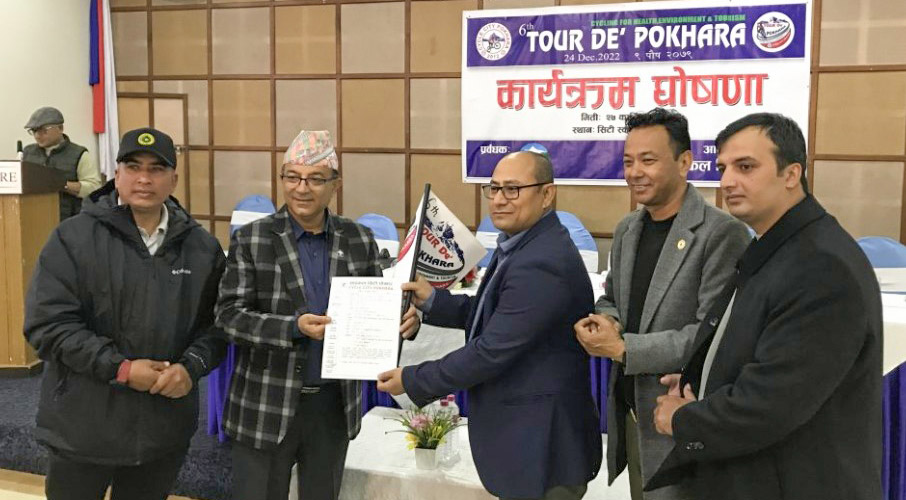 The sixth edition of Tour De' Pokhara will be held on December 21, 2022. Organizer Cycle City Pokhara has announced the '6th Tour De Pokhara 2022' in Pokhara on Sunday.
Tour De' Pokhara, which has been organized every year since 2015, was postponed in 2020 and 2021 due to the Corona epidemic. The organizers have informed that the second National Mayor Cup cycle race will also be held on December 21 as part of the sixth Tour De' Pokhara 2022 program. Coordinator Rajan Goganju informed that the National Mayor Cup cycle race program has been included in the Tour De' Pokhara program this year.
Under the same program, a bicycle rally of about 72 kilometers will be held from Kalika Temple in Baglung to Vindhyavasini Temple in Pokhara on December 22.
Likewise, a large bicycle rally will be held in Pokhara on December 24. On December 24, Gurung, the coordinator of 19 km within the Pokhara metropolis, informed. Organizers said that more than 1,500 people will participate in the rally, which will start at the exhibition center and end at the exhibition center. Various cultural programs, blood donation programs, slow cycle competitions, and zigzag cycle competitions will also be held on the occasion of closing.
Pokhara Metropolitan City will be the organizer of the bicycle race competition. The first, second, and third place female and male players will receive cash prizes of 30, 20, and 10,000 respectively.
Dhanraj Acharya, head of the Pokhara metropolis, said that the Tour De Pokhara program will help make Pokhara a tourist capital. He said preparations have already started to officially declare Pokhara as a tourism city. "We want the federal government to announce a specific name", he said.
He also said that Pokhara city is becoming a hub for sports, education, health, etc., not only because of the choice of tourists but also that there is a plan for the metropolis to make Pokhara's economic condition sustainable by declaring it as the tourism capital. Coordinator Rajan Goganju informed that the sixth Tour De' Pokhara 2022 will be spent around 2.5 million. The sixth Tour De' Pokhara will be supported by the Pokhara metropolis with 500,000.
Why Tour De' Pokhara?
Pokhara is the most popular tourist destination in Nepal Pokhara, which is full of natural beauty, is visited by domestic and foreign tourists every day to see its beauty. Located in the lap of the Annapurna snow range, the valley is the choice of many tourists. There are a lot of mind-blowing things here. Mountains, lakes, caves, rivers, and waterfalls are the gifts of nature. Known as the city of lakes, there are many lakes here including Phewa, Begnas, Rupa, Dipang, Khaste, Nyureni, Gunde, and Maidi Lake. 40 percent of the tourists who come to Nepal come to Pokhara. 3 of the 14 highest mountains in the world can be seen from Pokhara.
Dhaulagiri, Annapurna, and Manaslu Himal are peaks higher than 8 thousand meters. There are places in Pokhara where you can enjoy different tastes. Seti flows hiding in the womb of the earth, from Sarangkot to see the sunrise, archaeological museum, religious places, caves, leafy Chhango, rivers flowing under the ground, Barahi temple in the middle of the lake, etc., there are various beautiful places in this city. Every day something happens in Pokhara. National and international level awareness programs and fairs and festivals are held on various topics such as literature, art, sports, environment and sanitation, health, nature, agriculture, forestry, etc. Many adventure sports like paragliding, Bungee Jump, ultralight, canoeing, and zip flyer are the attractions here. For the past few years, national and international triathlon and duathlon games have been held in Pokhara.
Cycle City Pokhara organizes 'Tour De' Pokhara' every year. The main objective of 'Cycle City Pokhara', which has succeeded in making its own identity in the Pokhara metropolis, which has been providing social services while emphasizing the development of tourism, is a 'healthy environment and tourism.
In the past, bicycles were considered vehicles for the poor. However, nowadays, cycling is seen in connection with health and the environment. It may be due to the lack of public awareness about the need to ride a bicycle that some people start cycling only after they find out that they have diseases like heart disease, blood pressure, diabetes, etc. That too according to the doctor's advice. Since the bicycle is an environmentally friendly means of transportation, people who are aware of health and the environment are not only using bicycles, but they are also spreading awareness that everyone in society should use bicycles. One part of this is 'Tour De' Pokhara'.
Overall, the purpose of Tour The Pokhara is to inspire people to use bicycles, to help develop Gandak Province, which is very beautiful, and scenic, and has immense potential for tourism, as a tourist destination through bicycles in the world. The benefits of using bicycles will help bring prosperity. There are many objectives such as having a direct positive impact on economic and social development by supporting internal and external tourism promotion.
Conference
Exhibition