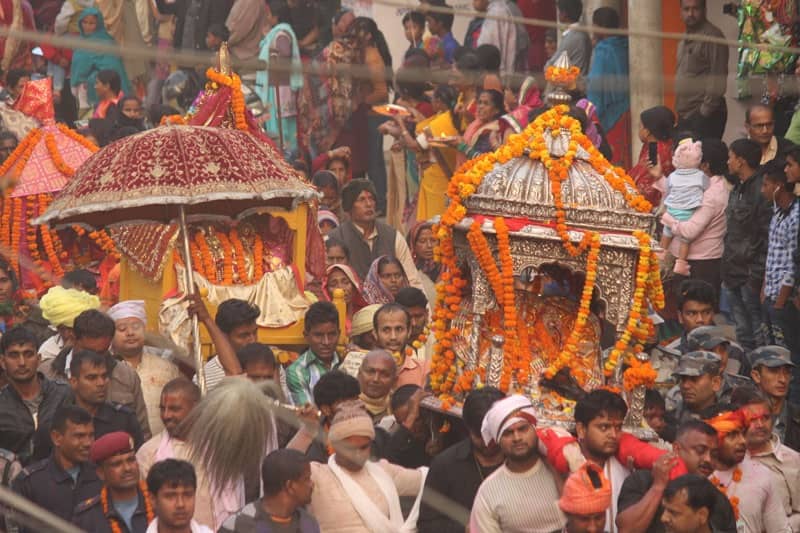 Today is Margashirsha Shukla Panchami. On this day in Tretayuga, Lord Rama was married to Sita. In remembrance of that, a symbolic marriage of Sita and Rama is performed in Janakpur. Today, Sita-Ram Swayamvar and marriage ceremony has been organized at Janaki temple in Janakpur.
The wedding ceremony of Lord Sita and Rama is being held today in Janakpurdham, the ancient capital of Mithila. As described by Goswami Tulsidas in Ramayana, the people of Mithila celebrate this festival as a special festival commemorating the day of Janakandani Sita's marriage.
In the Tretayuga, King Janak of Mithila kept Shivadhanush for his daughter Sita's Swayamvara. After breaking Shivadhanush, the marriage was solemnized between Ram and Sita on the day of Margashirsha Shukla Panchami.
According to the Ramayana, 56 crore deities are believed to be present in the Swayamvara organized in the arena of Janakpurdham. The people of Mithila, who consider Sita as their daughter and sister, participate in the festival from the arrival of Pratichhaya Janti to the wedding with joy, believing that the participation of deities is invisible even though it is not physical.
Matkor, Tilak festival, swayamvar and marriage rites are performed according to the culture of Mithila during the celebration of Vivah Panchami. According to the mythology, the idol of Lord Rama is carried from the Ram temple to the arena by placing a specially made dola on a throne with bajagaja and jhanki. Similarly, Sita is taken from the Janaki temple to the arena in a specially equipped dola.
Sita-Ram is brought to the Janaki temple after the completion of the marital method of self-examination in the arena. After that the marriage is consummated according to Mithila culture. Devotees from various parts of the state, including the bordering Indian region, also take part in the procession.
The laughter of the bride and groom on the arena, the jokes and the symbolic jhanki of Sitaram coming from the village and the enthusiasm of the millions of devotees exceed the charm of a real marriage. Formerly celebrated in Tirhutiyagachhi, the festival has been celebrated in Rangabhumi for two decades with special programs.
Devotees bathe in the sacred lake and river early in the morning. Bhajankirtan, Ramlila, Jhanki and Pravachan are also being organized on this occasion. There is a belief that the desired fruit and salvation will be obtained by participating in the marriage ceremony associated with the spirit of humanization of the deity.
Similarly, the Vivaha Panchami festival is being celebrated in Ram Sita temples across the country with special worship and festivals. There is even a belief that Saeet does not need to get married today.