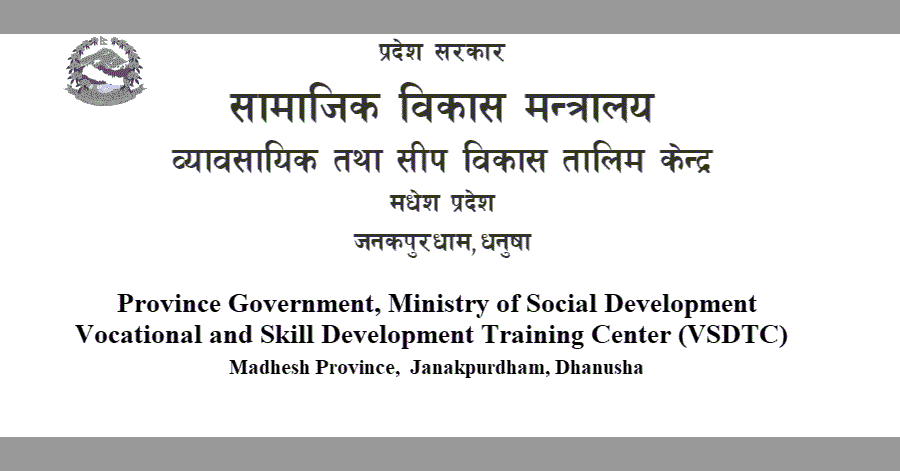 VSDTC Madhesh Pradesh Call Application for Various Training Programs: Government of Madhesh Province, Ministry of Social Development, Vocational and Skill Development Training Centre (Madesh Pradesh VSDTC), Janakpurdham, Dhanusha (Nepal) Call for applications for trainee recruitment
As per the approved annual program of Fiscal Year 079/080 of Professional and Skill Development Training Center, Janakpurdham, the following professional and skill training programs will be conducted from the month of Magh 2079. This notification has been published for Nepali citizens who are willing to receive training to fill out the trainee application form that will be distributed from this center within the mentioned period.
The course of Training Conducted in the center, training period, educational qualification
1) Electronics (including mobile repair)
(Eligibility: 3 months 10th class pass)
2) Computer (Basic course 3 months
3) Cutting-stitching 3 months
(Eligibility: 8th Class Pass)
4) General Mechanics 3 months
(Eligibility: 8th Class Pass)
5) 15 days of doll making
(Qualification: Basic Literacy)
6) 15 days for making crystal garland material
(Qualification: Basic Literacy)
Conditions to be followed by the candidates willing to take the training:
1) The trainees should submit the application form, a copy of their Nepali citizenship and educational qualification certificate, and 2 passport-size photographs along with Rs. The ticket of 10 should be submitted to this center within 2079-09-20. The contact date has been kept on 21-09-2079. Information regarding the interview will be published on the contact date.
2) Male trainees will be given priority to participate in the cutting and sewing training and female trainees will be given priority for participating in training in other subjects. Handicapped and target groups (Dalits, tribals, tribals, families of martyrs, poor women, victims of violence) and those who failed the entrance examination will be given first priority while participating in the training.
3) The age of trainees participating in the above training should be 18 years, not exceeding 40 years. The trainee selection process will be done through interviews. An average of 20 to 25 trainees will participate in a group.
For other detailed information, don't hesitate to get in contact with 041-522637/9844053939.
First published date 2079-09-06
Free Training
Madhesh Pradesh
Training