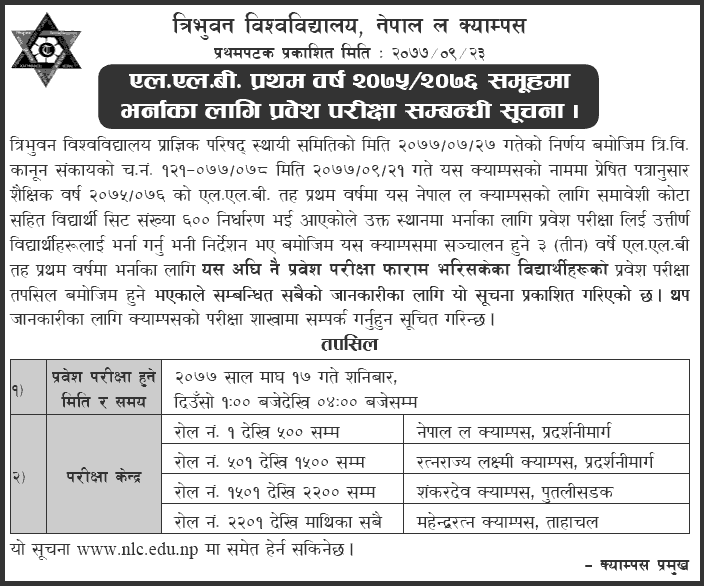 LLB First-Year Admission Entrance Exam Notice from Nepal Law Campus:
Tribhuvan University, Nepal Law Campus, Notice regarding entrance examination for admission in LLB First Year 2075/076 group.
According to the decision of the Standing Committee of the Tribhuvan University Academic Council dated 2077-07-27 and the letter sent to the TU Law Faculty on 2077-09-21 in the name of Nepal Law Campus; In the first year of LLB level of the academic year 2075/076, 600 student seats with inclusive quota have been decided for Nepal Law Campus; As instructed to admit the students who have passed the entrance examination for admission in that place; As the entrance examination details of the students who have already filled the entrance examination form for admission in the first year of the 3 (three) year LLB level to be conducted in this campus will be exhausted; This information has been published for the information of all concerned. For more information, please contact the Campus Examination Branch.
Details
There will be an entrance exam. Saturday, Magh 17, 2077
Date and time 1:00 pm to 4:00 pm
| | |
| --- | --- |
| Roll No. | Entrance Exam Venue |
| Roll No. 01 to 500 | Nepal Law Campus, Pradashani Marga, Kathmandu |
| Roll No. 501 to 1500 | Ratnarajya Laxmi Campus, Exhibition Road |
| Roll No. 1501 to 2200 | Shankar Dev Campus, Putalisadak, Kathmandu |
| Roll No. 2201 to All candidates | Roll No. |
This information can also be viewed at www.nlc.edu.np.
First published date: 2077-09-23