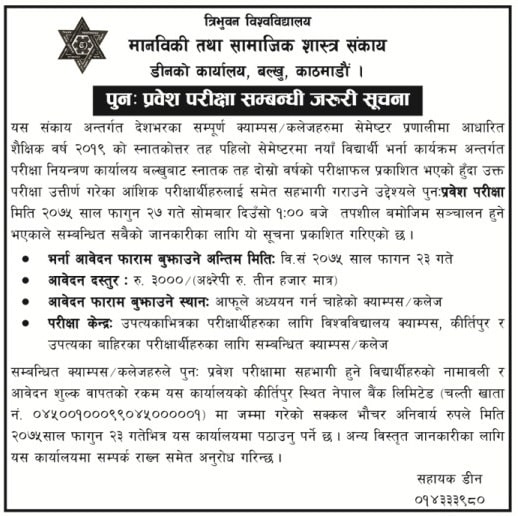 Tribhuvan University (TU), Faculty of Humanities and Sociology has published notice for the Re-Entrance Exam of Master degree (Semester wise - 2019) programs.
Laster Date of Application Submission: 2075 Falgun 23
Application Fees: Rs. 3,000/- (Three Thousand)
Where to Apply: Campus or colleges where do you want to study.
Exam Center: University Campus, Kirtipur for Students from inside Valley and related campus/colleges for outside valley Students.
Re-Entrance Date and Time: 2075 Falgun 27 (1:00 PM onward)
Please Deposit money at the Nepal Bank Limited, Current Account NO. 04500100099045000001.
If you have any queries about the Re-entrance exam for master Degree, contact at +977-14333980.