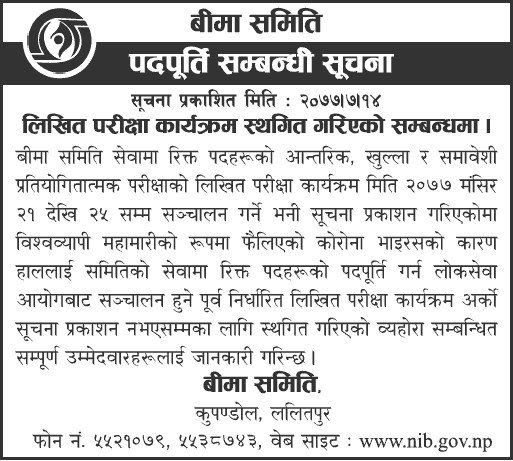 Written Examination Program Postponement - Beema Samiti:
Beema Samiti (Insurance Board) Notice Regarding the postponement of the written examination program.
Notice has been published that the written examination program of internal, open, and inclusive competitive examination for the vacant posts in Beema Samiti (Insurance Board) service will be conducted from 21st to 25th of Mangsir 2077. Due to the spread of the Coronavirus as a global epidemic, all candidates are informed that the pre-scheduled written examination program conducted by the Public Service Commission to fill the vacancies in the service of the Beema Samiti has been postponed until further notice.
Contact Details:
Insurance Board (Beema Samiti),
Kupandol, Lalitpur
Phone no. 01-5521079, 01-5538743
website: www.nib.gov.np
Notice Published Date: 2077-7-14