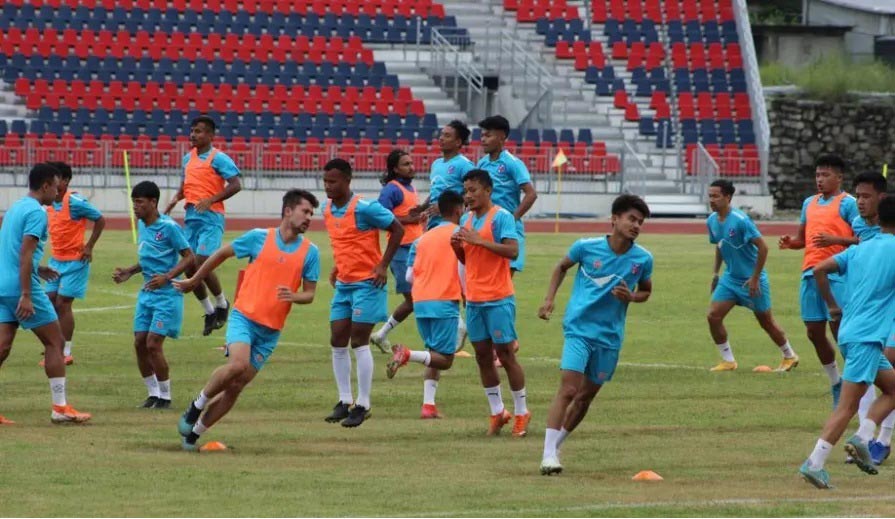 Nepali national football team coach Abdullah Almutairi on Monday selected 28 players from the team preparing for the SAFF Championship in the third round.
Kiran Chemjong, Vishal Shrestha, Deep Karki, Vikesh Kuthu, Arpan Karki, Suman Aryal, Dinesh Rajbanshi, Gautam Shrestha, Ananta Tamang, Rohit Chand, Suraj Thakuri, Suman Lama, Kamal Thapa Magar, Nitin Thapa, Tej Tamang, Rajan Gurung, Pujan Uparkoti, Vishal Rai, Santosh Tamang, Sujal Shrestha, Sunil Bal, Manish Dangi, Anjan Bista, Ayush Ghalan, Navyug Shrestha, Ashish Lama, Abhishek Rijal and Shishir have written.
Out of the 38 announced, veteran forwards Bharat Khawas, midfielder Vikram Lama and defender Ranjit Dhimal, forwards George Prince Karki, Rajiv Lopchan, Sanjok Rai, Tridev Gurung, Sesehang Aangdembe, Randeep Poudel, and Vishal Sunar are out.
Nepal is playing a friendly match against India at Dasharath Stadium on September 2 and 5 to prepare for the tournament. Nepali football team is in Pokhara for a two-week-long training camp. He is currently training at the football ground of Pokhara Stadium.
Football
Sports