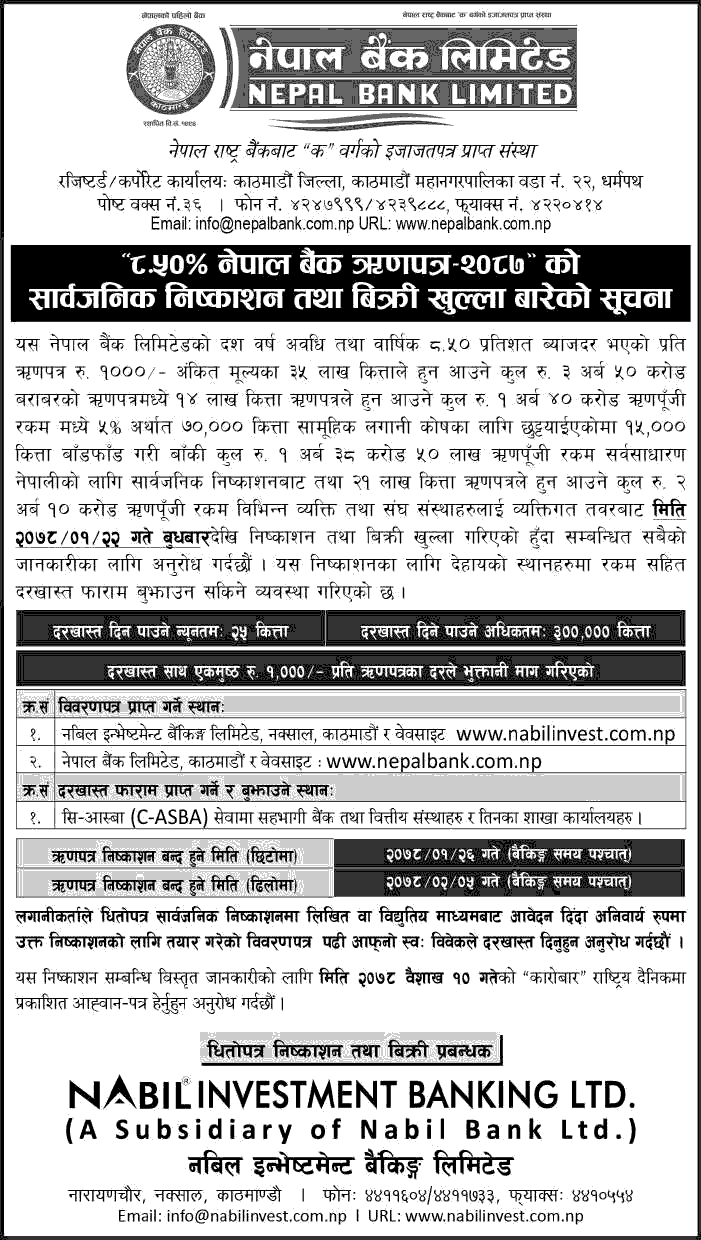 Apply for 8.50 percent Nepal Bank Debenture-2087:
Nepal Bank Limited (NBL) has opened the sale of Debenture (Rinapatra) worth Rs 3.5 billion since Baishakh 22. The bank has issued Debenture at an annual interest rate of 8.5 percent.
The bank is going to open the issuance and sale of '8.50 percent Nepal Bank Debenture-2087' from Baishakh 22. The term of the bond will be 10 years.
The bank has issued 3.5 million bonds with a face value of Rs 1,000 per unit, equivalent to Rs 3.5 billion. Out of this, 1.4 million units worth Rs 1.40 billion will be sold to the public and the remaining 2.1 million units will be sold individually, the bank said.
Of the bonds issued to the public, 5 percent or 70,000 units have been set aside for collective investment funds, of which 15,000 units have been distributed. The general public will be able to apply for the remaining 1.385 million units.
You have to apply for the purchase of the bond by Baishakh 26th as soon as possible. If no full application is received by that time, the issued period will be extended till the 5th of Jestha. Investors will be able to apply for a minimum of 25 units and a maximum of 300,000 units.
The issuer and sales manager of the bank is Nabil Investment Banking Limited. Investors can apply for the purchase of the bonds from C-ASBA member banks and financial institutions and their branch offices.
In the credit rating issued for the issuance of bonds, ICRA Nepal has given ICRP IR Single-A grading to the bank which indicates low credit risk. This indicates that it is an institution that fulfills its financial obligations on time and has low credit risk.