Calling All Students: Join the Essay Competition on Investor Resilience Hosted by the Securities Board of Nepal (SEBON)
The Securities Board of Nepal (SEBON) invites you to participate in an essay competition as part of World Investor Week 2023. This is a unique opportunity to showcase your insights on "Investor Resilience in Changing Economic Conditions."
Key Details You Need to Know
Event Duration: The competition is slated for Ashoj 15th to 21st, 2080, during the World Investor Week.

Submission Deadline: Make sure to submit your essay before Ashoj 9, 2080.

Language: Essays can be written in either Nepali or English.

Submission Method: Essays should be sent via email to [email protected]. Don't forget to attach a recommendation from the campus/college you are enrolled in.
Eligibility & Rules
Word Limit: Your essay should contain at least 2,000 words.

Originality Counts: The board is interested in original and research-oriented essays. Make sure your essay has not been published or submitted elsewhere.

Evaluation Criteria: Essays will be evaluated based on a predetermined set of criteria that prioritize depth of analysis and originality.

Who Owns the Rights: The Nepal Securities Board reserves all rights to include or exclude essays from the competition.
Fabulous Prizes Await!
First Prize: The winning essay will receive a cash award of Rs. 65,000.

Second Prize: A reward of Rs. 35,000 will be given to the runner-up.
Why You Should Participate
Gain Recognition: Your essay could be featured by the Policy, Research, and Training Department of the Nepal Securities Board, providing you with an excellent platform to gain visibility and credibility.

Make an Impact: Use this opportunity to contribute thoughtful perspectives that could influence policy considerations around investor resilience.

Win Prizes: With generous cash rewards, there's even a financial incentive to produce your best work.
Tips for Crafting a Winning Essay
Be Relevant: The subject of your essay should focus on "Investor Resilience in Changing Economic Conditions."
Be Concise and Clear: Ensure your arguments are not just compelling but also easy to understand.
Add Data and Examples: Where possible, substantiate your claims with data and real-world examples.
This essay competition offers an authentic platform for students to engage in high-quality research and writing. It's not just an event; it's a learning experience that could set the stage for your future in economics or finance.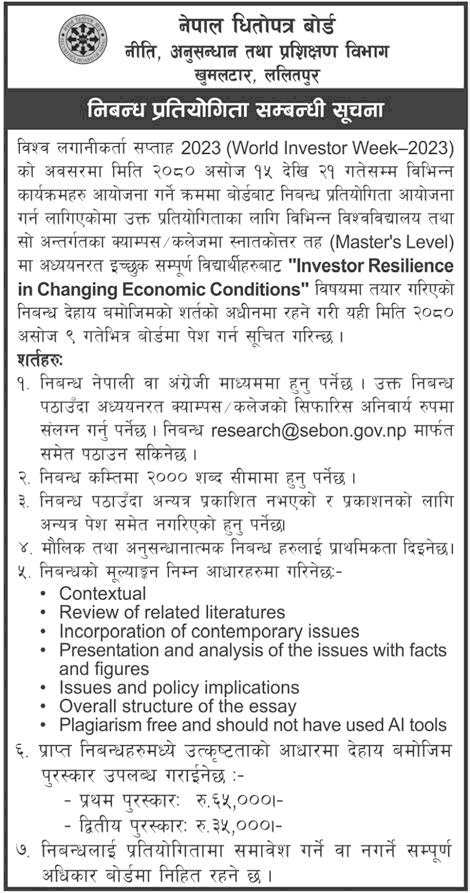 Notice