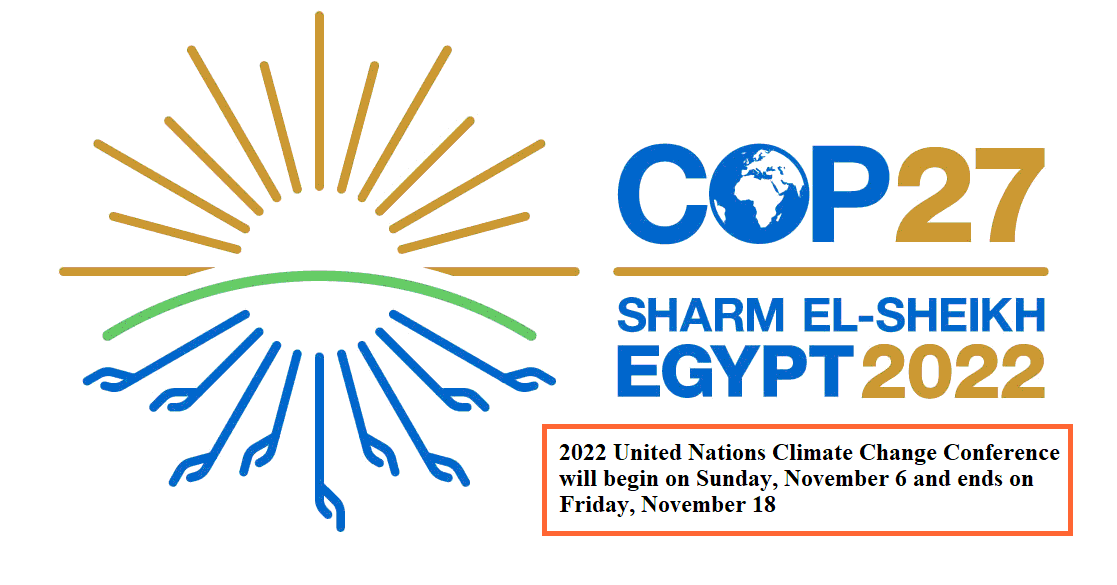 Experts have suggested the government make climate change a multilateral Issue. Experts suggest that since climate change is a globally complicated issue, only coordination, cooperation, and participation at the multi-sectoral level will help to deal with the problems caused by it.
The twenty-seventh Conference of the Parties to the United Nations Convention on Climate Change (UNFCCC) (COP-27) is being held this time from November 20 to November 2 in Sharm el-Sheikh, Egypt. On the same occasion, while speaking in the program on 'Catalytic potential of media and civil society in COP-27', experts expressed their concern that the issue of climate change is not politicized in Nepal.
COP27 United Nations Climate Change Conference will begin on Sunday, November 6 and ends on Friday, November 18, 2022
Dr. Ngmindra Dahal, the president of Nepal Water Conservation Foundation, the organizing organization of the event, said that it is important to have a proper review of what we have learned and how much we have been able to do about climate change. "Since climate change is a multi-faceted issue, not only the Ministry of Environment but other ministries and departments should also be proactive", emphasized Dr. Dahal. According to him, the lack of these matters at the municipal level, the lack of accurate data, and the lack of in-depth studies on loss and damage are challenges for Nepal.
"Until science, politics, and policy-making work together, it will be difficult for Nepal to deal with the effects of climate change", he insists.
Similarly, Raju Pandit Chhetri, director of the Nature Resources Center, complained that Nepal's political parties have not assimilated climate change even after such a long time. Chhetri said that no one can ignore climate change, an issue that has a multi-sectoral impact, and that it is necessary for civil society to create pressure on them to implement the cooperation that developed countries give to underdeveloped countries. According to him, COP-27 is also a proper platform for this.
"Climate change is not a single problem but a mixture of economic, social, and political problems. Therefore, it is a multi-stakeholder issue", he said. According to Chhetri, although civil society and the government of Nepal share the same views on climate change in the international arena, civil society should closely monitor the government's activities within the country. He emphasized that the media and civil society should pay special attention to whether climate finance is used correctly or not.
According to climate campaigner Lalmani Wagle, COP-27 is of special importance because it is going to be in the background of the latest UN report on catastrophic climate events, the Ukraine war, and climate change. He said that the civil society is assisting the Nepal government in developing knowledge and skills on climate change and is also monitoring the government's activities. He advised that Nepal should take special care of climate adaptation and loss and damage.
Sajan Neupane of Mercy Corps said that the weakness in various efforts of climate adaptation, mitigation, policy, and protection should be corrected. According to him, efforts of all sectors are necessary to face these challenges as the crisis created by climate change has a direct impact on the economic conditions of individuals, society, and the country.
Pragati Dhakal, Secretary of Nepal Environment Journalist Group, said that even though Nepali journalists and media have recently started giving priority to the issue of climate change, it is necessary to increase the knowledge related to it. Umesh Balal Magar, Network Coordinator of Nepali Youth for Climate Action, pointed out the need to strongly raise the voice of the Southern World (Global South) in COP-27.
Naresh Sharma, Deputy Secretary of the Climate Change Management Division, Ministry of Forests and Environment, said that the preparation of the position paper to be presented by Nepal for COP-27 has reached its final stage. He informed that although the Ministry of Environment is the focal ministry on the issue of climate change, it is coordinating and discussing with other ministries and departments.
Sharma expressed the promise that the government has taken the issues raised by the media and civil society regarding climate change positively and will continue to cooperate in the future.
COP-27 is considered by many countries as a commitment implementation conference. A ministerial delegation from Nepal is participating in the conference. It is said that this time, Nepal will present topics such as damage loss, climate finance, and climate adaptation.