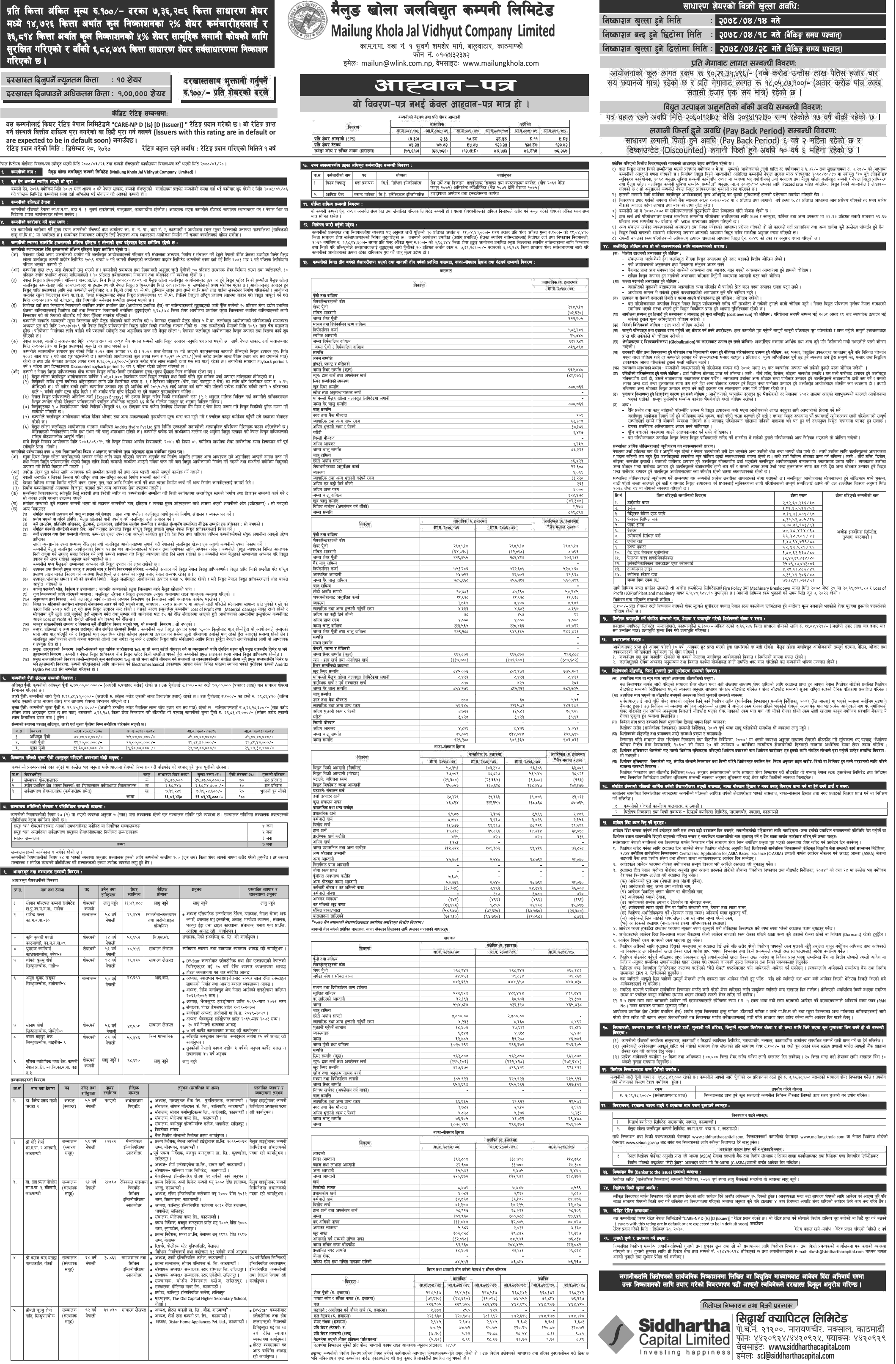 Mailung Khola Hydropower Company Limited (Mailung Khola Jal Vidhyut Company Limited) Issued IPO to the public on July 29 (Shrawan 14, 2078). Mailung Khola Hydropower Company issued a total IPO worth Rs. 73.6 million 28 thousand 600. Accordingly, the company will issue a total of 736,286 units of IPOs at a face value of Rs 100 per unit. Out of the total, 14726 units of shares will be allotted to the employees of the company and 36814 units of shares will be allotted to the Mutual investment fund. The general public is able to apply for the remaining 684,746 units of share.
In this IPO, the general public is able to apply for a minimum of 10 units and a maximum of 100,000 units. Applications can be submitted online through C-ASBA system from participating banks and financial institutions and their branch offices and from MeroShare of CDSC.
Applications for this IPO can be submitted as early as August 2 (Shrawan 18) and as late as August 12 (Shrawan 28) by banking time. Siddhartha Capital Limited is the sales manager of the securities.
SEBON had given permission on July 7 to issue this IPO of Mailung Khola Hydropower. Even in the IPO of this company, it seems appropriate for the general public to apply for 10 units. This is because the previous IPO of Union Life Insurance had the highest number of applications so far. There was a demand for shares from about 2.1 million applicants.
In this regard, it seems that there will be more than 2.1 million applications for the IPO of Mailung Khola. Accordingly, it seems that the IPO will be distributed at the rate of 10/10 units.
As the general public is able to apply for only 684,746 units in this IPO, 68,474 applicants will get 10 lots and 6 applicants for more than 10 units will get 1/1unit.
IPO Date
IPO