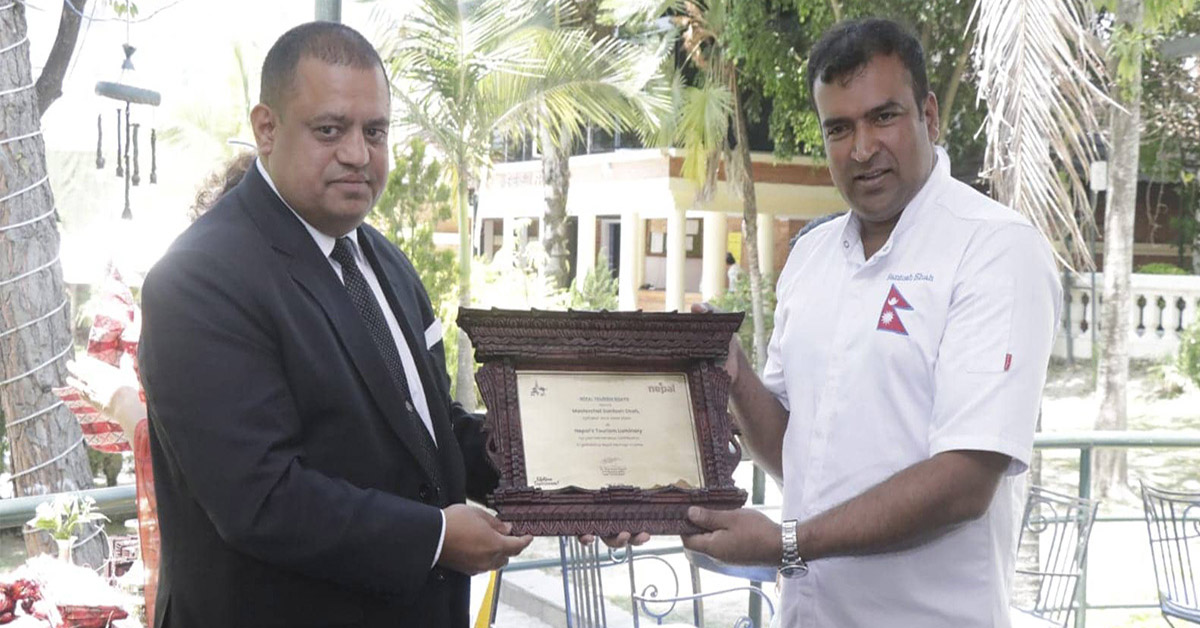 Nepal Tourism Board Honored the Finalists of BBC 'Masterchef the Professional 2020'
At a function held in Kathmandu, Master Chef Santosh Sah along with Chef Alex Wave, Chef Bart van der Lee and Chef Philly Armitage were honored. Executive Chef of the Board Dr. Dhananjay Regmi, Board Members Ngima Nuwa Sherpa, Milan Devkota, Senior Director Nandini Lahe Thapa, Director Maniraj Lamichhane, and others honored the Chef team.
Respecting the chefs, Dr. Regmi, Chief Executive Officer of the Board, said that Santosh Shah has added a new dimension to Nepal's tourism by introducing Nepali dishes to the world. He said that this work would make Nepali cuisine known in the world and help in making the tourism business success along with more employment. He said that the arrival of other chefs of the team with satisfaction and visit to Nepal has further supported Nepali dish tourism.
Respected personality Chef Santosh Sah said that he was proud to bring Nepali food to the world stage. He said that Himal and Lumbini are famous destinations for the development of tourism in Nepal as well as Nepali art, culture and cuisine are equally important. Chef Sah urged the accompanying team to come back to Nepal and experience Nepal up close again.
Likewise, Chef Alex Wave, Chef Bart van der Lee and Chef Philly Armitage said that they were happy to visit Nepal and learn about the art and culture here. He said that Nepal is truly a beautiful country united in its original culture and method, adding that Nepal is a beloved country for all.