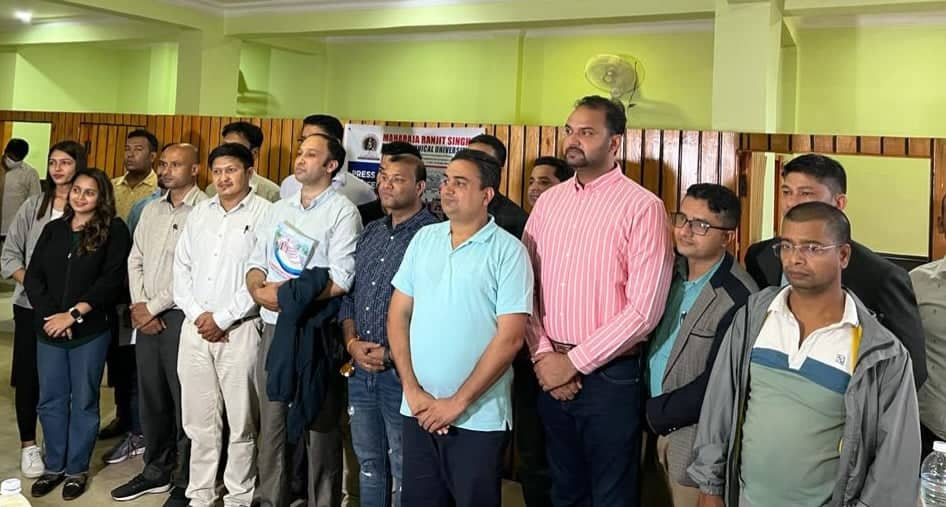 India's Punjab Technical University is going to offer huge scholarships to Nepalese students. The university informed in a press conference in Kathmandu.
Maharaja Ranjit Singh Punjab Technical University is a State Technical University of Punjab located in Bathinda, Punjab, India. Maharaja Ranjit Singh Punjab Technical University has been studying and researching various technical courses for students like Data science, IT and Software Engineering, Business, Cyber ​​Security, Programming Languages, Designing, Patents, and IPR.
Addressing the press conference, Chairman Admissions of Maharaja Ranjit Singh Punjab Technical University, Dr. Manjit Bansal, gave his welcome speech informing that the university is providing quality education of international level and the educational programs of the university are capable of introducing the students to the world level in the technical field.
Similarly, Harjot Singh Sidhu, director of training and placements of the university, while informing the journalists of various media present at the press conference, expressed his opinion about the quality of education and job placements of the university.
In the press conference, Director of Max Way International Education Consultancy, Gambhir Bhagat, informed that Nepali students, like Indian students, can also enroll in this government university under the fee structure of Indian students.
The Punjab Government established Maharaja Ranjit Singh Punjab Technical University (MRS-PTU). Bathinda (Punjab) will provide a golden opportunity to students of Nepal with a world-class quality technical education, the best placements in the government as well as private sector, safe, secure, and conducive environment for study in the premier institute.
The MRS-PTU will also provide attractive scholarship schemes, as well as safety and security environments for Nepal students in the premier institute of the Punjab Government.
This was stated by renowned academician MRS-PTU. Dean (Consultancy and Industry linkages) and Chairman- Admissions Dr. Manjeet Bansal at a press conference held at Kathmandu.
It may be mentioned here that MRS-PTU Chairman Board of Governors-cum-Principal Secretary to Government of Punjab, Department of Technical Education & Industrial Training Punjab, Shri Rahul Bhandari IAS, and Vice Chancellor Prof. Buta Singh Sidhu recently launched the Admission portal of the University for the Academic Session 2022-23. The Admission for Academie Session 2022.21 is open for Engineering, Architecture and Planning, Commerce, and Management. Pharmacy. Food Science and Technology. Agriculture. Aeronautical. Aerospace, Computational Sciences. Physics. Chemistry. Mathematics. Skill Development and Online Certified Course, in Emerging Technologies i.e. Data Science, Blockchain, Programming Languages. Cyber Crime, Machine learning, Patent, & IPR, Business Intelligence and many others.
Dr. Manjit Bansal said technical education play a vital role in human resource development of the country by creating skilled manpower enhancing industrial productivity and improving the quality of life of its people.