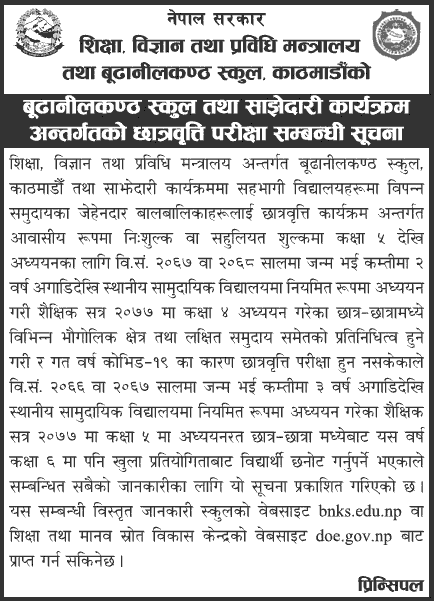 Budhanilkantha School Announces Scholarship for Class 5:
Government of Nepal, Ministry of Education, Science and Technology and Budhanilkantha School, Kathmandu: Under the Ministry of Education, Science and Technology, Budhanilkantha School, Kathmandu and the participating schools in the partnership program, the underprivileged children of the underprivileged community will be provided free accommodation under the scholarship program, or at a concessional fee. Students who were born in 2067 BS or 2065 BS and studied regularly in a local community school for at least 2 years and studied in class 4 in the academic session 2077 BS are represented in different geographical areas and target communities.
Since students were born in 2066 BS or 2067 BS and have been studying regularly in local community schools for at least 3 years. This notice has been published for the information of all concerned.
Detailed information can be obtained from the school's website www.bnk.edu.np or the Education and Human Resource Development Center's website www.moe.gov.np.
Scholarship in Nepal