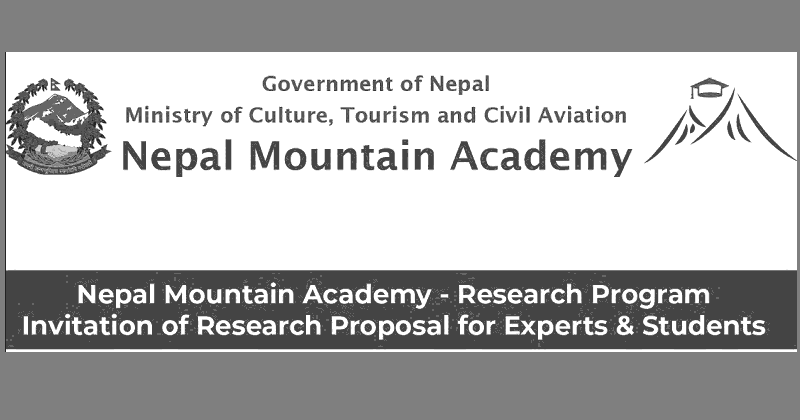 Nepal Mountain Academy (NMA) Invites Research Proposals for Experts and Students: Government of Nepal, Ministry of Culture, Tourism and Civil Aviation, Nepal Mountain Academy (NMA Invitation of Research Proposals for Experts & Students
Nepal Mountain Academy invites research proposals and duly-filled-grant-application forms from experts and students for Nepal Mountain Academy - Research Program (NMA-RP)
Thematic Area:
Mouritort Mounlaineenng in the Himalayas
Himalayan adventures
Anthropornorphe study
Mountain Meteorology
Himalayan biodiversity
Himalaya geography Mountaneenrog hospitality
Mountain people and livelihood
Mountain hazards
Mountaineering science
Trans-boundary and intentional cooperation
Category

Eligibility

Research Expert Category

- The principal researcher should possess research expert se.

- Subjects as per the Research Guidelines

Student Category

- The students of Nepal Mountain Academy who are pursuing the academic degree Shall apply

- Subjects: as per the Research Guidelines.

Funding and Duration

- The maximum amount for Research Expert Category shall be NRs 250,000 (two hundred fifty thousand rupees).

- The maximum amount of Student Categories shall be NRs. 100,000 (one hundred thousand rupees)
Documents to be &kindled:
- Application form 8 guidelines are available on the website: www.nma.gov.np
- The applicant must kite the Academic Research Devekipmenl Gudetne-2020 while submitting the application form and research proposal.
Deadline: The application along with the research proposal must be registered at the academy by 2079-09-06 (22 Nov. 2022).
For Further Details:
Contact at
Nepal Mountain Academy
Tel.: +977-1-5244312, +977-1-5244888
Mobile No.: +977-9851127190
Email: [email protected]
Web. www.nma.gov.np
Published Date: 2079-07-06 (23 Oct. 2022)
Fellowship
Scholarship in Nepal