Arun Rural Municipality (Gaupalika), Office of the rural municipal executive, Pyauli, Bhojpur Notice published 15 days advertisement (information) regarding recruitment of employees in contract service
Since the vacancies in the health institutions under Arun Rural Municipality, Pyauli, Bhojpur have to be recruited in the contract service for the posts mentioned in the details; Nepali citizens who have reached the minimum educational qualification prescribed for the posts mentioned in the following by pasting the information within 15 days from the date of publication of the information for the first time, attach the passport size photo with the required documents and submit the following application form. This advertisement information is published for related information.
Vacancy Details:
1. Health Assistant (HA) - 1 (One)
2. Radiographer - 1 (One)
3. Lab Assistant - 1 (One)
2) Type of Service: Contract service
(3) The application form will be available at the Health Branch of Arun Rural Municipality.
(7) Examination fee - 4th level: Rs. 500 / - and fifth level Rs. 800
(5) Monthly Salary and other service facilities: - As prescribed by the Government of Nepal.
(6) Deadline for filling up the application form: 2078-09-06.
(7) Contact Date: - 2078-09-06.
(8) Contact no. : - 98542092923 and 9819100440
(9) Type of examination: - As per contract procedure 2075
10) Documents to be attached in the application: - Copy of Nepali citizenship (must have completed 18 years and not exceed 45 years), certified copy of educational qualification, ANM from a recognized educational institution and so on and registered with the concerned council (registration has not expired). If you have worked in the related field, you should have a certificate of experience and a certified copy of the experience should be attached. Candidates will have to sign and certify themselves on the back of all the copies submitted.
11) The contract term will be till end of Ashad 2079. However, in case of permanent appointment, the contract will automatically expire from the day the permanent employee appears.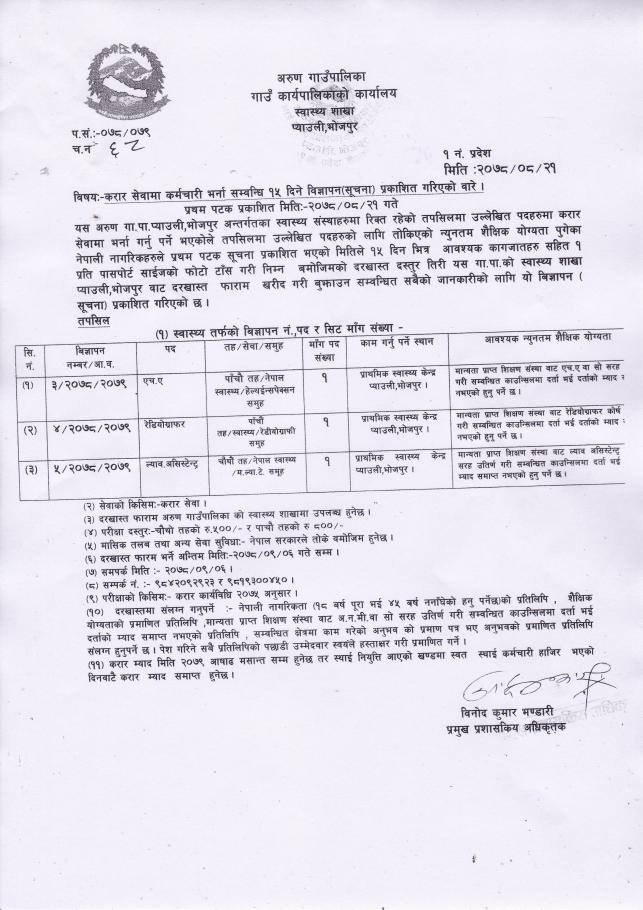 Bhojpur
Province 1
Job Vacancy
Health Job
Government Job