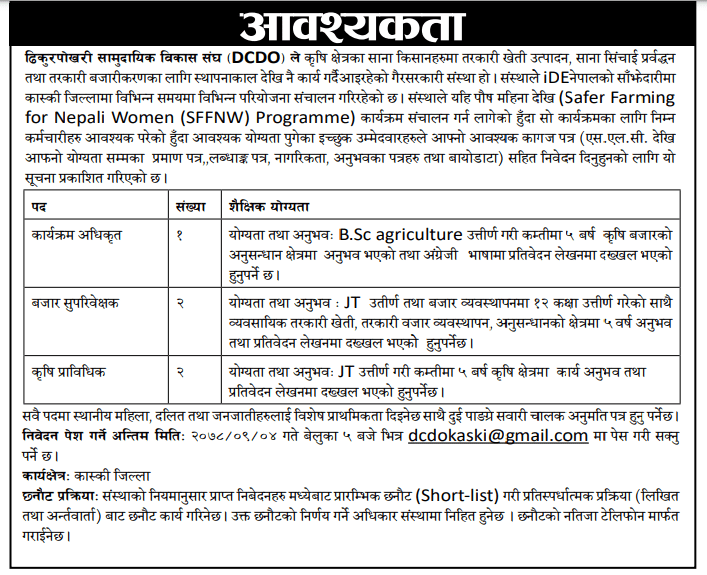 Dhikurpokhari Community Development Association (DCDO) is a non-governmental organization (NGO) that has been working since its inception for vegetable farming production, small scale irrigation promotion and vegetable marketing among small farmers in the agricultural sector. The organization is operating various projects in Kaski district at different times in partnership with iDE Nepal.
Since the organization has been running the Safer Farming for Nepali Women (SFFNW) program since this Poush month, the following staff is required for the program; This information has been published for the interested candidates who have reached the required qualifications to apply along with their required documents (certificate from SLC to their qualification, certificate of merit, citizenship, certificates of experience and biodata).
Vacancy Details:
1) Program Officer - 1 (One)
Qualifications and Experience: Must have passed B.Sc agriculture and have at least 5 years experience in the field of agricultural market research and have been involved in report writing in English language.
2) Market Supervisor - Two
Qualifications and Experience: Must have passed JT and 12th class in market management and 5 years experience in commercial vegetable farming, vegetable market management, research and report writing.
3) Agricultural Technician - Two
Qualifications and Experience: Must have passed JT and have at least 5 years work experience in agriculture and report writing.
Note:
Special priority will be given to local women, dalits and janajatis in all the posts and they will have to have two wheeler driver's license.
Last date for submission of application: 2078-09-04 at 5 pm [email protected].
Area of work: Kaski district
Selection Process: Preliminary selection will be shortlisted from the applications received as per the rules of the organization and selection will be done through competitive process (written and interview). The decision-making power will be vested in the organization. Selection results will be announced by telephone.
Kaski
Agriculture Job
Gandaki Pradesh
Job Vacancy