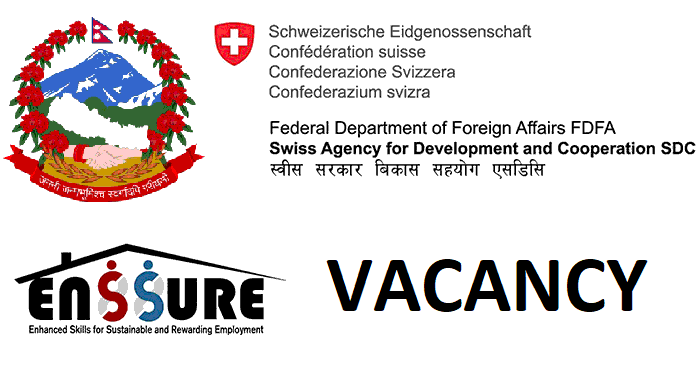 Enhanced Skills for Sustainable and Rewarding Employment (ENSSURE II), is a bilateral initiative of the Governments of Nepal and Switzerland. It seeks to help Nepalese youths, women, and men, gain social and economic benefits from a federalized WET system. In the end, the project has been supporting 3 spheres of governments to deliver WET functions as per their constitutional mandate. The project is being implemented by the Council for Technical Education and Vocational Training (CTEVT) at the federal level, by the Ministry of Social Development at the provincial level, and by municipalities within these provinces at the local level with technical support from Helvetas Nepal.
Building on the experience of phase 1, the project has been supporting the governments to scale up and institutionalize work-based learning, which includes Dual VET-Apprenticeship, Training with OJT, and Workers' Further Training. Besides, the project has been providing career guidance to youths and students in grades 9 and 10. The project is being implemented in Province 1, Bagmati Province, and Lumbini Province.
Helvetas Nepal invites applications from competent and committed Nepali Citizens for the following position:
Position: Technical Coordinator-TVET
Job Purpose: Technical Coordinator-TVET is responsible for:
Providing technical assistance to the provincial government and local government to implement and institutionalize work-based learning.
Supporting the planning and implementation of WET-related activities
Providing necessary backstopping support to training providers and partner industries
Supporting to forge collaboration and coordination among various stakeholders.
Required Education, Experience and Social Competence:
Master's degree in Development Studies, Social Science, Business Management or in any relevant discipline. Minimum 5 years of working experience in project/program implementation, 2 years of working experience in WET sector with similar responsibilities. Working experience with industry associations/chambers will be an advantage. Commitment toward gender equality, social inclusion, and poverty reduction is a must.
Duty Station: Lumbini Province (Butwal office).
Duration: 3 years with the possibility of extension.
Salary and Benefits: As per the rules and regulations of Helvetas Nepal.
Priority will be given to the local candidates (candidates from or the surroundings of the duty station).
Application Procedures: Interested candidates who meet the above requirements are requested to visit our website at http://applv.helvetas.org.np and submit applications through an online portal. The detailed job description is available on the website.
Telephone enquiries will not be entertained. Only short-listed candidates will be contacted for the selection process. Helvetas Nepal reserves the right to reject any or all applications without assigning any reasons.
Helvetas Nepal promotes workforce diversity and applies positive discrimination to candidates from discriminated groups (Women, Dalit, Janajati, Madhesi/Terai, and other minority communities).
Deadline for submission of application: 6 July 2022, 4 PM.
Job Vacancy
NGO Job