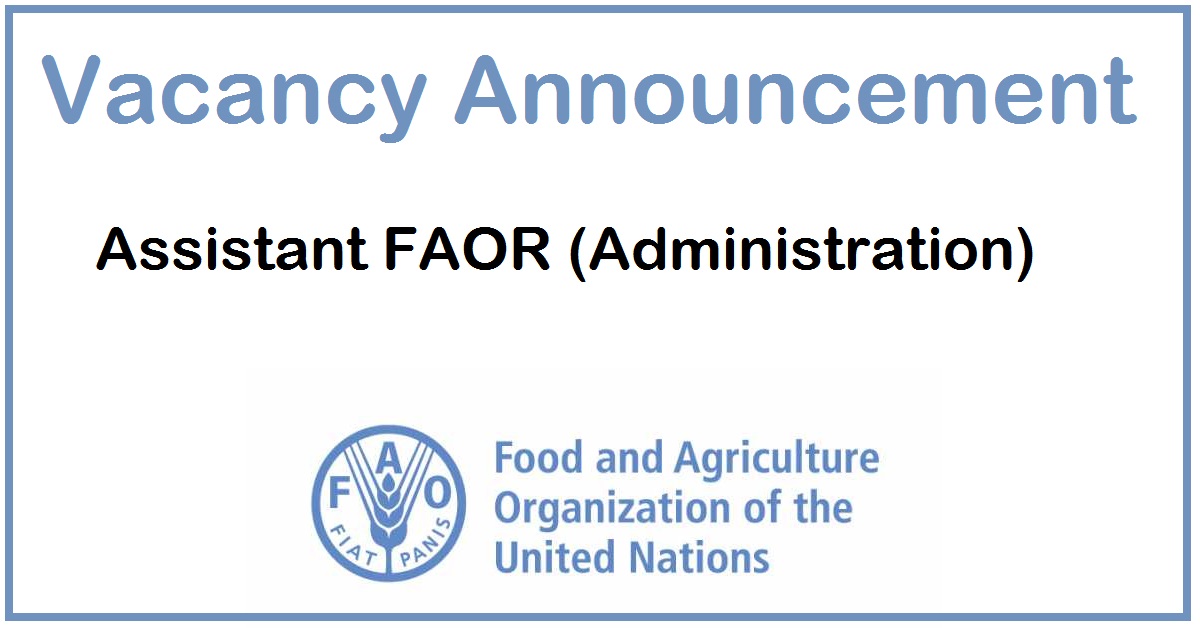 Food and Agriculture Organization of the United Nations Vacancy Announcement
Issued on: 04 Sep 2018 Deadline For Application:26 Sep 2018
Position Title: Assistant FAOR (Administration)
Duty Station: Nepal, Kathmandu
Organizational Unit: FAO Representation in Nepal, FANEP Grade Level: N-1
Duration: Fixed term, non-continuing > 1 year CCOG Code: 1Al2 Post Number: 2002962
FAO is committed to achieving workforce diversity in terms of gender and nationality. Persons with disabilities are equally encouraged to apply. All applications will be treated with the strictest confidence. The incumbent may be re-assigned to different activities and/or duty stations depending on the evolving needs of the Organization.
Organizational Setting
The main aim of the FAO country offices, which are headed by an FAO Representative, is to assist governments to develop policies, programmes and projects to achieve food security and to reduce hunger and malnutrition, to help develop the agricultural, fisheries and forestry sectors, and to use their environmental and natural resources in a sustainable manner.
Reporting Lines
The Assistant FAO Representative (Administration) reports to the FAO Representative in Nepal
Technical Focus Programme administration and financial management, including accounting and personnel administration.
Key Results
Effective and efficient provision of administrative support to the programme and project activities of the FAO Representation.
Key Functions
Provides support in the areas of administration, finance, and budgetary control;
Maintains all financial records and monitoring systems of the office and assists with monitoring of various accounts; supervises and/or maintains imprest accounts; ensures that operational expenditures are in accordance with approved budgets and that all committing documents are complete and consistent, and reports variations from budgets;
Supervises the administrative team; Assisting with organizing and/or retrieving, entering, selecting and analyzing data from a wide variety of sources, including FAO's corporate systems;
Prepares financial and administrative correspondence for the office, including the processing of payments in accordance established rules; maintains a filing system; and ensures that an appropriate paper trail with key documentation is archived.
Assists with the preparation of recurring reports on programme, project and office accounts; provide support in the preparation of reports for budget planning, audits, and other related requests; and liaises with local banks and financial institutions;
Monitors the receipt of Government contributions and ensures that all procurement and customs clearances for programmes, projects and the office are properly requested and obtained;
Ensures the compliance with the Organization's security guidelines (Minimum Operational Security Standards ' MOSS).
Specific Functions
Represents FAO in UN Joint Meetings (OMT, SMT, UN Taskforce).
Supports emergency admin/operation
Provides training to other staff on administration, finance, and operational issues.
Provides administrative support to FAO Representation Bhutan including actions on the Global Resource Management System (GRMS).
CANDIDATES WILL BE ASSESSED AGAINST THE FOLLOWING
Minimum Requirements
National of Nepal
Advanced university degree in a field related to business or public administration
One year of relevant experience in office management, administration, accounting and/or audit, budget or finance
Level C of the official communication language used for FAO communication with the country (English, French, Spanish, Arabic, Chinese or Russian)
Working knowledge of the local language (if not English, French, Spanish, Arabic, Russian or Chinese)
Limited knowledge (Level B) of English (if the main communication language is French, Spanish, Arabic, Russian or Chinese)
Competencies
Results Focus
Communication
Team Work
Building effective relationships
Knowledge Sharing and Continuous Improvement
Technical/Functional Skills
Work experience in more than one location or area of work, particularly in field positions is desirable
Extent and relevance of experience in the field of office management and administration including supervisory experience
The extent of knowledge of UN or standard operational rules and procedures and project/programme administrative management procedures
The extent of knowledge of FAO's corporate systems and database or knowledge of other accounting or financial modules or applications relevant to accounting procedures or project budget management would be considered an asset
Demonstrated analytical and judgment skills and ability to apply rules and regulations in the subject field
Please note that all candidates should adhere to FAO Values of Commitment to FAO, Respect for All and Integrity and Transparency
ADDITIONAL INFORMATION
FAO does not charge a fee at any stage of the recruitment process (application, interview, processing).
Please note that FAO will only consider academic credentials or degrees obtained from an educational institution recognized in the AU/UNESCO list.
Only language proficiency certificates from UN accredited external providers and/or FAO language official examinations (LPE, ILE, LRT) will be accepted as proof of the level of knowledge of languages indicated in the online applications.
Other similar positions may be filled from this vacancy notice and the endorsed candidates will be considered for the Employment Roster for a period of two years.
Candidates may be requested to provide performance assessments.
Candidates are requested to attach a letter of motivation to the online profile.
For other issues, visit the FAO employment website: http://www.fao.org/employment/home/en/
REMUNERATION
A competitive compensation and benefits package is offered. For information on UN salaries, allowances and benefits, click on the following link: http://www.un.org/Depts/OHRM/salaries_allowances/salary.htm
HOW TO APPLY
To apply, visit the recruitment website at Jobs at FAO https://jobs.fao.org/careersection/fao_external/ job search.ftl?lang=en and complete your online profile. Incomplete applications will not be considered.
Only applications received through the recruitment portal will be considered.
Vacancies will be removed from the recruitment portal at 23:59 Central European Time (CET) on the deadline for applications date. We encourage applicants to submit the application well before the
deadline date.
If you need help or have queries, please contact: [email protected]
FAO IS A NON-SMOKING ENVIRONMENT