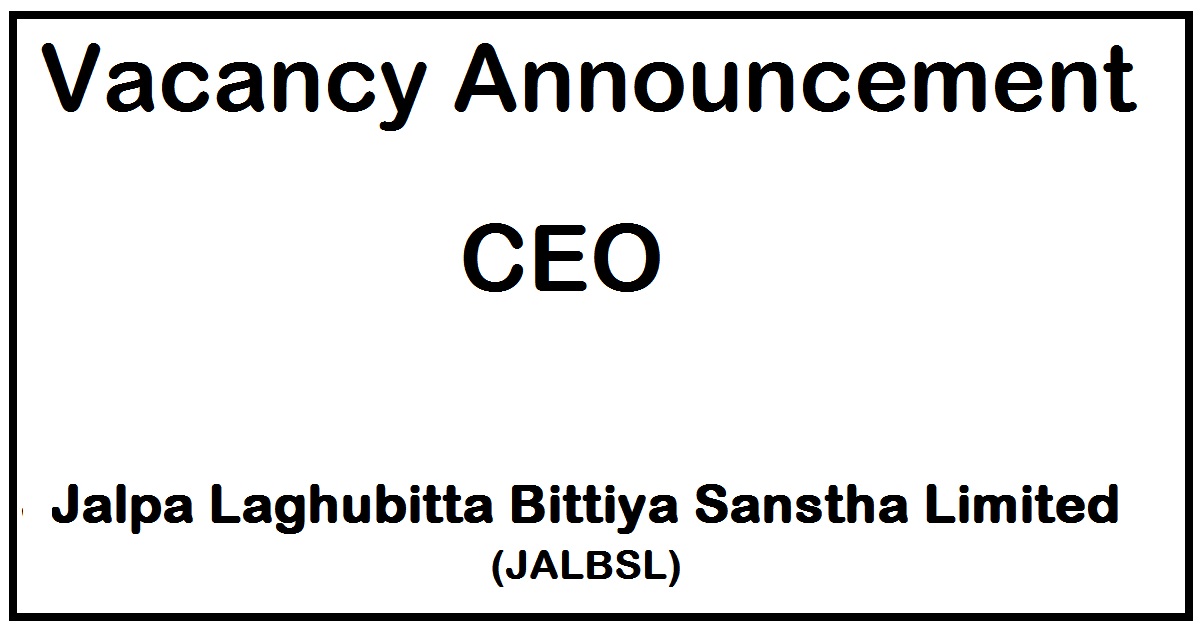 Jalpa Laghubitta Bittiya Sanstha Limited (JALBSL) is the proposed 'D' class financial institution (10 Districts) which is in the final stage of conversion from FINGO (Shreejana Banking Program) initiated by the Shreejana Bikas Kendra. The proposed financial institution is promoted by Kailash Bikas Bank Limited, Jyoti Bikas Bank Limited, Pokhara Finance Limited and the professionals which are having long-time experience in the sector of banking and microfinance.
JALBSL invites applications from interested and qualified Nepalese citizens for the position of Chief Executive Officer (CEO). The CEO will responsible for the overall strategic leadership and management of the institution and shall be accountable to the Board of Directors.
KEY JOB RESPONSIBILITIES:
Give executive leadership for the achievement of its vision, mission, and strategy.
Program/planning, implementation, monitoring, and reporting.
Management of microfinance operations as a high standard.
Develop proposals, business plans, strategic documents, products and policy papers.
Administrative management for the growth and development of the institution.
Perform any other duties as directed by the BOD.
REQUIREMENTS:
Be eligible to be appointed as the CEO of a 'D' class financial institution as per prevailing laws and NRB regulations.
Possess minimum master's degree in management / banking / finance / economics / commerce / accounts / statistics / business administration.
At least 3 years of working experience at top management level in banking and financial institutions, determined personality with initiative, perseverance and the ability to motivate and manage a team.
Strong commitment to the mission and core values of microfinance.
Possesses extensive knowledge on microfinance sector, rural economy and banking system of the country.
Result-oriented and willing to travel extensively in the field.
Proficiency in Nepali and English; must possess communication and computer
Age: Minimum 30 years and maximum 54 years, on the date of the first announcement.
Workstation: JALBSL Head Office, Simalchaur-8, Pokhara
Appointment Nature: 4 years contract
Salary and Benefit: Negotiable within the organizational rules and regulations.
Apply To: Interested candidates are requested to send their application and CV along with a recent photograph in a sealed envelope within 10 days of first publication of this announcement at Shreejana Banking Programme Head Office Pokhara Phone no.
061551495, 061523955 Or can directly email to [email protected]
JALBSL reserves the right to reject any or all the applications without assigning any reason whatsoever. Shortlisted candidates shall be asked to prepare and present a detailed business plan.