Kalika Municipality, Municipal Executive Office, Red Cross Village Chitwan, Bagmati, Province Nepal invites job Vacancy application for City Police (Nagar Prahari).
For Kalika Municipality, Chitwan, there is a required for City Police (Nagar Prahari) in the post as per the following details. Applications are invited for the service contract. Interested and eligible Nepali citizens are requested to apply within 15 days from the date of publication of this notification along with three copies of passport size photo, certificate of citizenship, certificate of educational qualification and transcripts in the format prescribed in this office.
Position: Nagar Prahari [Open - 3, Women - 1 and Adivasi Janajati-1]
Age Limit: At least 18 years of age and not exceeding 30 years of age till the date of application.
1) Deadline for application and application fee: Within the office hours till 2078-10-03 (the next day if there is a public holiday on that day), there is no additional facility to apply by paying double fee.
2) Application Fee: Rs. 500 / - (five hundred), Rs. 500 / - (five hundred) for inclusive filling only and for additional inclusive group, additional Rs. 200 / - (two hundred) per group.
3) Educational Qualification: Must have at least an entrance examination or similar from a recognized educational institution.
4) Selection Procedure: Physical and health examination, written and interview.
5) Written Examination: The written examination will be conducted on the basis of the syllabus prescribed by the Public Service Commission for the post of Nepal Police Jawan.
6) Interviews: Only candidates who have passed the physical and health test and written examination will be allowed to participate in the interview.
7) Contract period: up to end of FY 2078/79 (Contract period can be extended or reduced as per the decision of the office).
8) Remuneration equal to the initial salary received by the police personnel of the Government of Nepal.
9) In case the application form is available, the husband can download it from the registration field of the executive office and from the website of Kalika Municipality www.kalikamun.gov.np.
Published date: 2078-09-18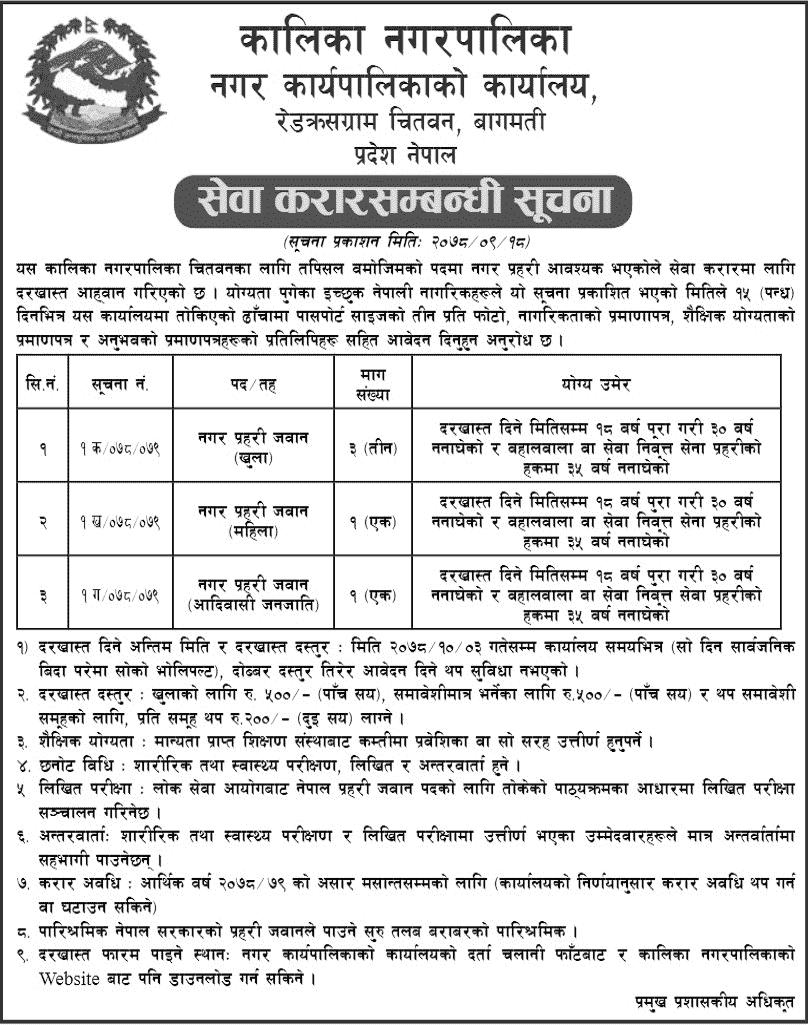 Jobs for Freshers
Chitwan
Bagmati Pradesh
Job Vacancy
Government Job