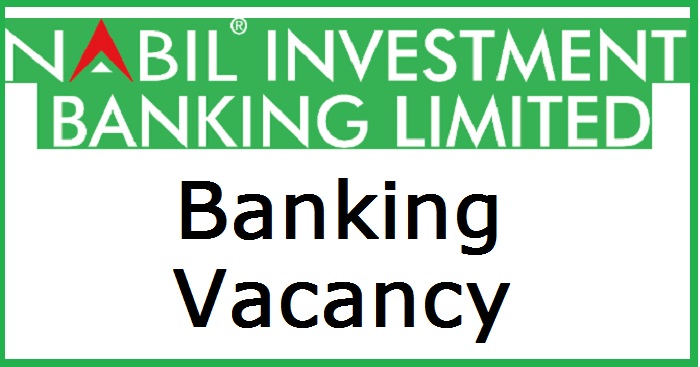 Nabil Investment Banking Limited: Offering Career Opportunities in Investment and Merchant Banking
Nabil Investment Banking Limited, a subsidiary of Nabil Bank Ltd., is a prominent investment banking and merchant banking service provider in Nepal. The company has recently announced new job vacancies for Nepalese citizens in the field of investment and merchant banking, including Mutual Fund Management, Portfolio Management, Demat services, Corporate Advisory, and Merchant banking services.
Job Positions Available
Nabil Invest is looking for dynamic and competent Nepalese citizens to join their team for the following job positions:
1. Associate-Fundamental & Technical Analyst/ Corporate Advisory (Few)
2. Associate- Portfolio Management Service (Few)
The company aims to strengthen its highly skilled professional team by hiring individuals who are passionate about investment banking and merchant banking.
How to Apply
Interested applicants can visit Nabil Invest's website at https://www.nabilinvest.com.np/career/ to apply for the job positions and find further details about the requirements and responsibilities.
The deadline for applications is 7th May 2023, Sunday at 5:00 pm.
Opportunity for Growth and Development
Nabil Invest is committed to providing a challenging and rewarding work environment to its employees. The company believes in nurturing talent and providing opportunities for growth and development. Therefore, this announcement presents a great opportunity for individuals with a passion for investment banking and merchant banking to build their careers with one of the leading Merchant & Investment Bankers in Nepal.
Contact Details:
NA.BIL INVESTMENT BANKING LTD. (A Subsidiary of Nabil Bank Ltd.)
Narayanchour. NaRal. Kathmandu
Phone No.: 01-4411604, 01-4411733
Fax No.: 01-4410554
Website: www.nabilinvest.com.np
Published on 29th April 2023
Banking Career
Job Vacancy
Banking Job