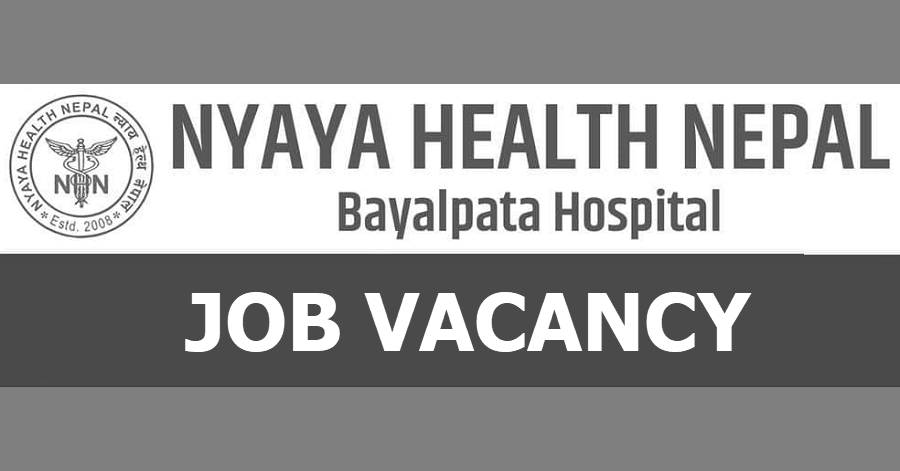 NYAYA HEALTH NEPAL Bayalpata Hospital Job Vacancy: Nyaya Health Nepal (NHN) is a non-profit healthcare organization that delivers high-quality, low-cost healthcare in rural Nepal. We are looking to add talents to expand quality healthcare in the Bayalpata Hospital Achham.
1) Emergency Physician Volunteer -1 (One)
Nyaya Health Nepal is seeking an Emergency Physician Volunteer who will be responsible for designing a care model and training modules; monitoring, evaluating, and advocating for Improved medical care at Nyaya Health Nepal, Bayalpata Hospital, Achham with high standards of patient care.
Requirements:
Medical Officer General Medicine with specialty in Global Emergency Medicine, Diploma in Tropical Medicine with certification from recognized university or Institution, masters Degree in Public Health, Advanced Emergency Ultrasound skills, 1-year experience in related field.
Candidates who meet above requirements are requested to find apply at https://nyayahealthnepal.rigohr.com/jobs before 03 Feb 2023.
Only shortlisted candidates will be informed for further selection process. No phone call will be entertained. For detailed Information, please visit https://nyayahealthnepal.rigohr.com/jobs Please write us at hr®nyayahealthnepal.org for any queries.
People Operation Department
Notice Published Date: 20 January 2023
Hospital Job Vacancy
Sudurpashchim Pradesh
Achham
Job Vacancy
Health Job