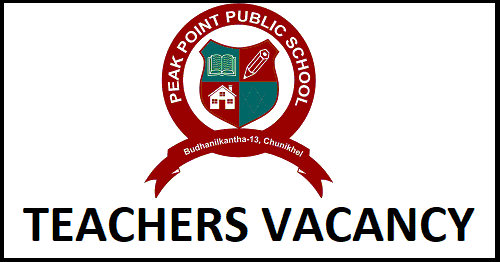 Peak Point Public School Vacancy for Teachers:
Peak Point Public School one of the leading education institutions located at Budhanilkantha-13, Chunikel (Near Baluwakhani Smayukta bus Park) has the following vacancies to fulfill for the academic session 2077.
1. Pre Primary Teacher- 4 (Four)
(Montessori trained and experienced)
2. Primary (Nepali, Science) - 2 (Two)
3. Grade Teacher (Standard 1 and 2): - 2 (Two)
Interested candidates are requested to send an email to [email protected] with the complete document or drop it personally to the school front office.
Peak Point Public School
Budhanilkantha-13, Chunikhel
Telephone: 01-5128277 / 9851123274