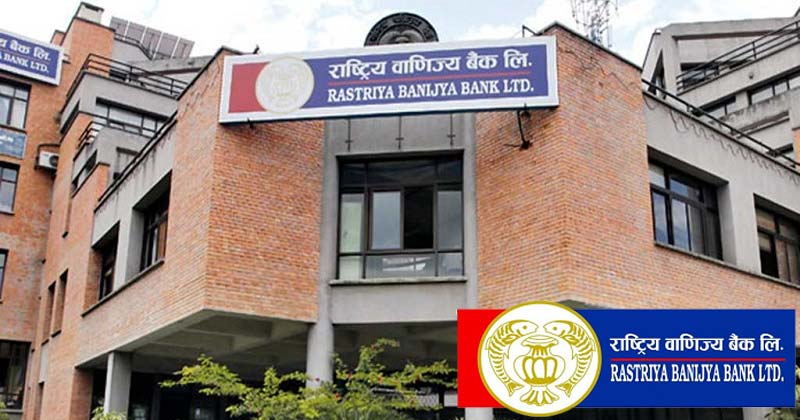 Rastriya Banijya Bank Limited, Central Office, Human Resource Department Notice regarding filling of application form for contract service
Pursuant to the decision of the Board of Directors of Rastriya Banijya Bank Limited; For the implementation of the Enhancement Roadmap, as per the decision of the meeting of the IT Enhancement Roadmap Steering Committee to fill the positions in the contract service, the application form has been invited from the eligible Nepali citizens who have attained the minimum educational qualification and experience and have not committed any crime from the date 2079/12/04.
Fill in all the details to be filled in the application form prescribed by the bank, along with Nepali citizenship and certificates of educational qualifications and experience prescribed for the applicant position and a passport size photograph must be attached to the human resources department of the bank and also through the bank's email id [email protected].
No action will be taken on applications that have not passed the deadline, do not have the prescribed minimum educational qualification and experience, have not submitted the prescribed examination fee and are received after the prescribed time.
In addition, those who have been dismissed from their jobs in such a way that they will be disqualified from the service of the Government of Nepal or any organized organization or bank/financial institution in the future, have been found guilty by a court of law in a criminal charge showing moral turpitude, are ineligible to be appointed to any position in a bank/financial institution according to the regulations and instructions issued by Nepal Rastra Bank. No action will be taken on the application of persons who have been blacklisted and who have not paid the load of financial institutions and banks. If the application form is filled with false information, the applicant himself will be responsible for it.
Vacancy Details:
| | | |
| --- | --- | --- |
| Ad No. | Position | Required No. |
| C1/2079/80 | Database Specialist | 1 |
| C2/2079/80 | Network and System Specialist | 1 |
Types of Service: Contract
Duration: One Year
2. Minimum Education Qualification and Experience:
A) For Database Specialist
Qualification and Experience:
Bachelor's degree in Computer Science, Information System, Business or equivalent combination of education and experience
10-, years Oracle/MS-SOL DBA experience
5+ years of ProstgreSOL experience
5+ years of Linux/UNIX/Windows Server experience
Strong Customer service attitude and ability to juggle multiple priorities
Strong written and verbal communication Skills with the ability to effectively communication with both business and technical personnel
Self-starter able to perform a variety of tasks and has a proven ability to work with minimal supervision, as well as in a team environment
Occasional weekend and after-hours work
Back-end (tier 3), on-call support for emergencies
Basic knowledge of shell scripting
Additional Qualification and Experience
Self-motivated with a desire to stay abreast of latest technologies
Willingness to perform non dba functions such as data analysis and project work
Experience with Oracle/MSSQL Server BI, Weblogic
Experience with Oracle/MS-SQL Server Replication
Experience with working in IT for a bank and financial institutions.
Experience with large databases
B) Network And System Specialist
Qualification and Experience
Master's degree in Computer Science, Information Technology, Information system or equivalent degree from a recognized university
More than 10 years of experience in the use of Corporate system backup and recovery solution.
More than 10 years of experience in medium-sized LAN and WAN environments running Microsoft
Windows Server technologies, 115, System Centre, AD as well as Linux Servers (Ubuntu, Cent0S),
Proven work experience with Microsoft Windows 10/11 Desktop, Linux (CentOS, and Unix operating systems,
Practical work experience in ICT Security and Identity Management,
Practical work experience in the installation, configuration, and deployment of network routers, and switches (like Cisco, Pao Alto, Checkpoint, Fortinet, Sonic wall, and Sophos),
Demonstrated ability in the provision of user training and support (Standard office automation and customized applications)
Experience in good customer care, with an additional focus on the support of remote users and logistical arrangements, which are common in remote areas of Nepal.
Additional Qualification and Experience
Certification like CISSP, COBIT, ITIL are an advantages
Experience in CEH, CHFI, ECSA are an added advantages
3) Type of Examination, Posting and Service Facility:
A) Type of Examination: Action Plan, Presentation Examination and Interview.
b) Posting: Central Office of the Bank.
c) Service facilities: as specified by the bank and as per mutual agreement.
(4) Application form filling period: 15 days from the date of publication of the notice (2079/12/04) (the next day if it is published on the last date of submission of the form).
5) Exam Fee: Rs. 700 (seven hundred only)
(6) Examination fee The application form should be attached to the bank's corporate branch (185) in account number 185010000028001 named "Rastriya Banijya Bank In-Opera" and submit the application form.
(7) The application form can be obtained from the Human Resources Department of this bank or can be downloaded from the Career Notice within the notice of this bank's website: rbb.com.np.
(8) Action plan, presentation test and interview: The action plan must be submitted along with the application form. The presentation test and interview will be held at the Bank's Central Office Building, Singhdarwar Plaza, Kathmandu.
(9) The TOR of the respective post is placed in the Career Notice within the Notice of the Bank's Website: rbb.com.np.
(10) Regarding educational qualifications, experience, service qualifications and other certificates, only those issued by the last date of submission of applications will be recognized.
(11) The bank will have all rights to accept, reject and cancel the application.
(12) If there is any ambiguity while filling the application form, it can be understood by contacting the telephone number of this department at 014252595 extension no: 3549 and 3548.
Date: 2079/12/04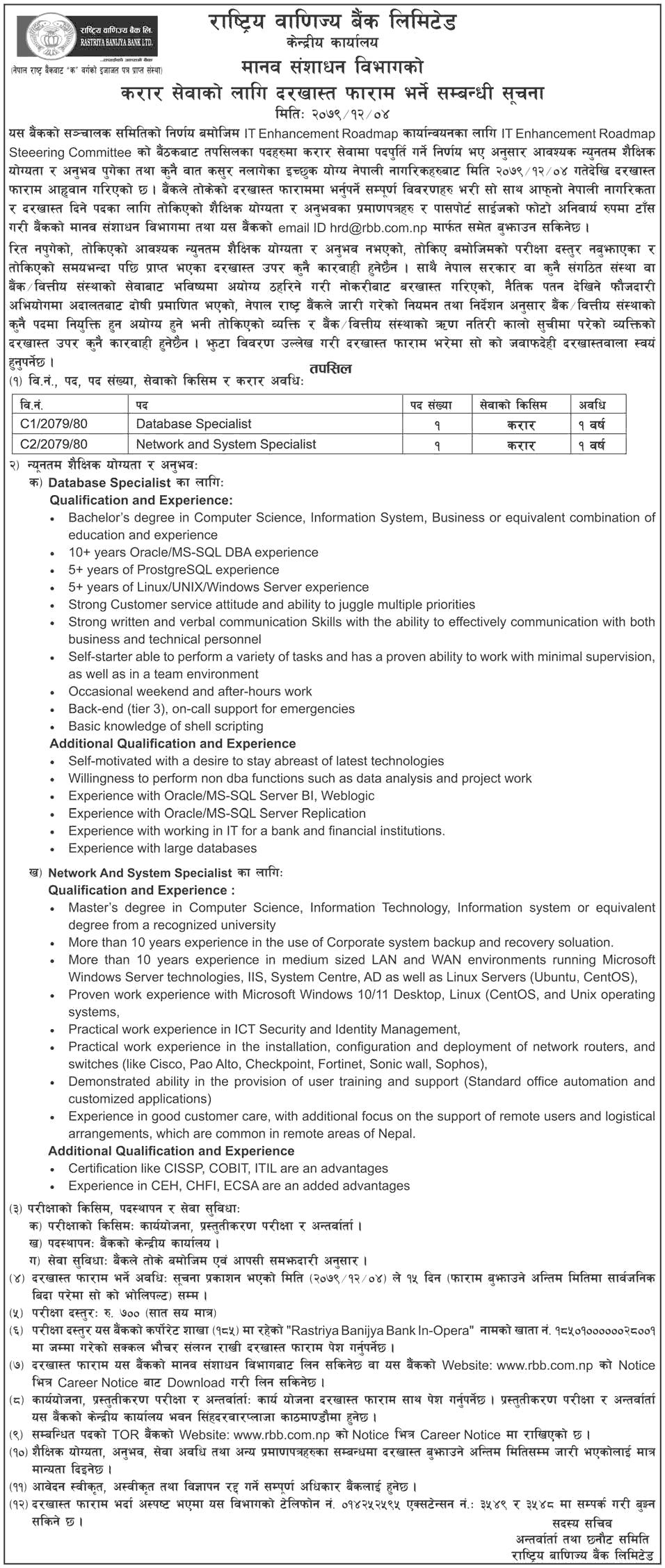 Karar Job Vacancy
Banking Career
Job Vacancy
Banking Job