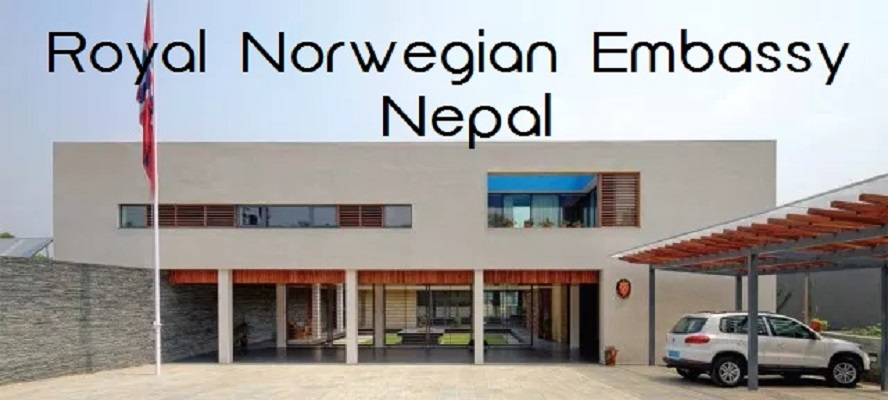 VACANCY ANNOUNCEMENT GOVERNANCE ADVISOR Royal Norwegian Embassy in Kathmandu: The Royal Norwegian Embassy is looking for an energetic and experienced Governance Advisor. Good governance is one of the main areas of development cooperation between Nepal and Norway. The governance support concentrates on democratic institutions. provincial and local governance. rule of law. public financial management and anti-corruption. The advisor will work in a team with Norwegian diplomats.
The aim of Nortray's support is to contribute to achieving the Sustainable Development Goals. Our development cooperation in Nepal focuses primarily on governance. education and renewable energy. Norway promotes human rights, women's rights, and gender equality. climate and environment and anti-corruption.
Position: Governance Advisor
MAIN DUTIES AND RESPONSIBILITIES
Provide high-quality, reliable, timely, and relevant governance advice to the Embassy.
Provide strategic analysis and advice to the Embassy on the issues of federalism and local governance. anti-corruption, public financial management, access to justice, and parliamentary affairs-related matters.
Provide grant management support.
Cooperate with partners for effective Implementation of programs/projects and contribute to developing and maintaining a constructive dialogue and broad network with national stakeholders and the international community in Nepal.
Work as the focal person for anti-corruption, one of the cross-cutting issues of the Embassy.
CANDIDATE PROFILE
The Governance Advisor should have concrete demonstrable experience and other qualifications
A university degree at a master's level, preferably in a relevant subject.
At least from years of relevant working experience.
Experience in grant management is an advantage.
Excellent spoken and written Nepali and English as well as good computer skills.
Strong analytical, networking, communication, and interpersonal skills.
Ability to work both efficiently and thoroughly. independently and in the team.
A high level of personal integrity is required.
At least Woof the following governance-related technical competencies:
federalism & local governance, law & human rights, and public financial management and anticorruption.
cross cutting issues related competencies: gender equality, climate and environment, human rights. and anticorruption.
The position is available from 15 September 2022. The first 6 months are probation. Short-listed candidates will be called for an interview, including a written test and oral presentation. Salaries and benefits are competitive at national level and commensuratewith experience and qualifications.
VACANCY CLOSING DATE: 15 AUGUST, 2022
APPLICATION PROCEDURE
(1)Please visit www.p2p.com.np for a detailed job description and to apply online. Applications should be supported with a cover letter/statement of suitability for the position outlining the evidence. competence and experience required and a CV inctudrng references.
"The Norwegian Embassy is an equal opportunities emptoyer, dedicated to inclusivity a diverse workforce and valuing difference. Qualified and eligible female candidates and those from minority backgrounds are encouraged to apply"
Job Vacancy