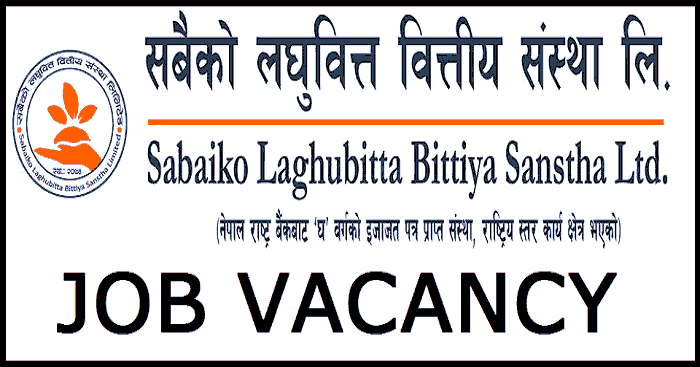 Sabaiko Laghubitta Bittiya Sanstha Limited Vacancy for Group Operator (Samuha Parichalak): Since the Sabaiko Laghubitta Bittiya Sanstha Limited, which is a national level area of ​​work licensed by Nepal Rastra Bank, has to prepare a roster for the post of group manager (contract) in accordance with the objective of encouraging local manpower at the local level. Within 7 days from the date of publication of this information along with the specified application, personal details (CV) from the eligible candidates who wish to be listed in the roster. Applications are invited in person at the branch office, Birendranagar, Surkhet.
1. Group Operator - Samuh Parichalak (Contract Basis) - Few
Preference will be given to candidates who have passed SLC from a recognized educational institution or have passed SEE with at least a GPA, working in any cooperative or microfinance sector. Special priority will be given to local married women.
(A) Age limit: Must have completed 18 years and not less than 50 years by the date of application.
(B) Documents to be submitted along with the application:
A handwritten application along with a certificate of Nepali citizenship, educational qualification, experience, recent photograph, and biodata should be sent. Candidates with motorcycle and driver's licenses and bicycles will be given special priority.
(C) Last date for submission of application: 2079-02-25 within office hours.
(D) Service facilities: will be as per the rules of the organization.
Note:
Out of the duly received applications, only shortlisted candidates will be contacted for the selection process. The copy of the documents submitted with the application should come along with the original certificate at the time of the interview. All the rights including suspension and cancellation of the staff selection process will be vested in this organization.
Sabaiko Laghubitta Bittiya Sanstha Limited
Branch Office, Birendranagar, Surkhet
Contact No. 083-590249, 98565549271
(Published: 2079-02-19)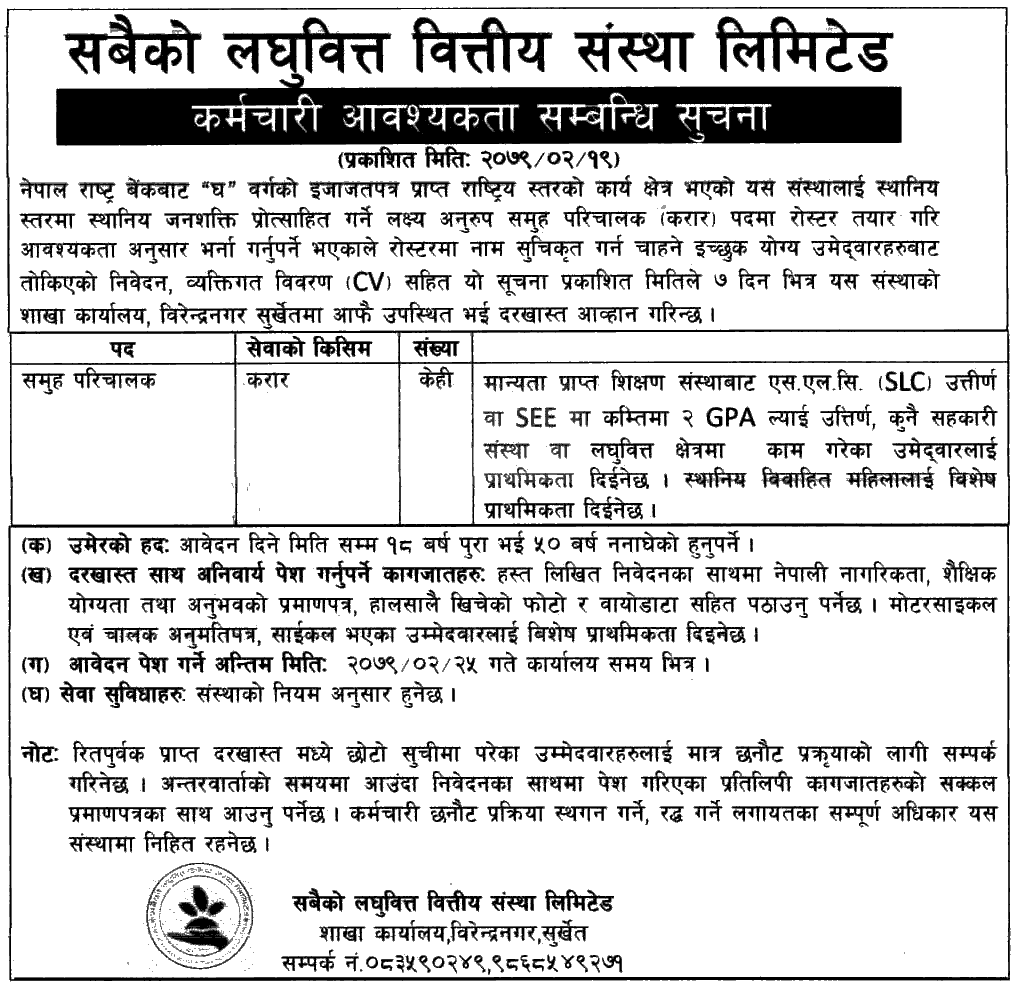 Notice
Laghubitta
Banking Career
Banking Job