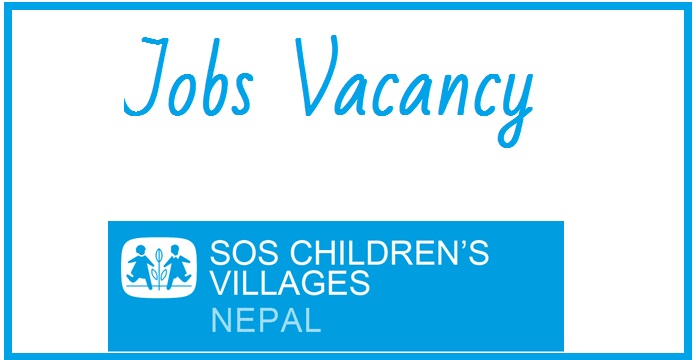 SOS CHILDREN'S VILLAGES VACANCY ANNOUNCEMENT
SOS Children's Villages Nepal, a non-governmental social development organisation, supports children without parental care and families in difficult living conditions through care, education, health and emergency relief services. We advocate for the rights of children and young people, in alliance with a great diversity of partners. We offer a secure and friendly work environment and are committed to safeguarding the rights of children by having zero-tolerance policy in this regard. We are further committed to providing a safe environment for coworkers and children, young people and adults with whom we work, where human rights are respected and upheld, and healthy relations are fostered by building organisational systems, capacity, and awareness on our Child Safeguarding Policy and Code of Conduct.
We are now looking for interested and qualified Nepali citizens for the position of Deputy National Director at National Office, SOS Children's Villages Nepal based in Sanothimi.
Job Position: Deputy National Director: National Office, Sanothimi with frequent location visits
Position Purpose (Mission):
The Deputy National Director plays instrumental role in leading and managing strategic and operational activities in order to ensure effectiveness and efficiency of all programmes around the country to guarantee high quality services to children, young people and coworkers according to the defined standards. S/he takes initiatives to assess strengths and challenges of programmes and is able to guide and support Function Heads, Location Leaders and Programme Unit Heads to ensure effective and efficient use of resources through robust administrative system for the sustainability and development of programmes.
Basic Requirements:
Master's Degree in any discipline with minimum 10 years of relevant experience and minimum 5 years of experience in the leadership and/or management position, especially in leading and managing people that includes team building, planning and problem solving to ensure quality services to programme participants (e.g., caregivers, coworkers, children and young people, etc.). Candidates must be below 55 years. Salary and benefits are as per the policies of the organisation.
Interested candidates are requested to apply with the Cover Letter, Curriculum Vitae and Employment Application Form (mandatory document, please download it from www.sosnepal.org.np/careers) to: [email protected] by 17:00 hours, 15 June 2023, Thursday.
For the detailed information, please visit the official website: https://www.sosnepal.org.np/careers
Employees within the organisation are highly encouraged to apply. Candidates who have applied before need to reapply. SOS Children's Villages Nepal reserves the right to reject any or all the applications without assigning any reason whatsoever. SOS Children's Villages Nepal follows the Inclusive Policy and therefore encourages women, people with disabilities, people of ethnic minorities and marginalised communities to apply.
Job Vacancy
Bhaktapur