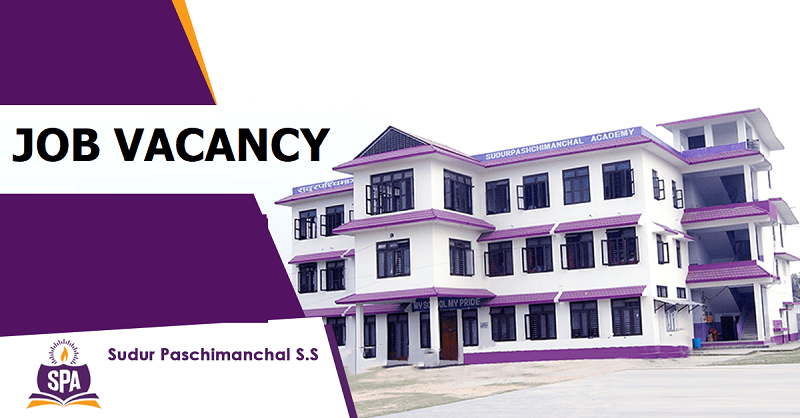 Sudur Pashchimanchal Academy Pvt Ltd, popularly known as SPA College, has its glorious academic history of 23 years. The academy has been established as a pioneer of providing all level education starting from school level to master degree programs and research situated in Dhangadhi, Nepal.
SPA is seeking application from qualified and result oriented Nepalese/Foreign citizens in the specified positions listed below.
There will be no bar of salary and remuneration& benefits for the deserving candidates.
1. Academic Head/Academic Director
Responsibilities:
Plan and execute overall academic calendars and activities of the college.
Manage the overall academic developments of the college.
Ensure the academic philosophy and goals of the college.
Organize faculty's development programs to produce skillful faculties and lead in organizing outside classroom activities for students.
Lead in implementation of all CCA/ECA activities of the college.
Build partnership with teachers, parents and students to provide the best education for each student and assist them in their academic and professional goals
Liaison with National Examination Board, TU and with others stakeholders.
Eligibility:
PhD Degree from reputed university.
At least 5 years work experience in higher executive level designation at a reputed college/academic institution or university.
2. Finance Manager
Responsibilities:
Monitoring and Evaluation of Financial Performance.
Planning, Forecasting & Management of Financial Control of Transactions.
Cash Control, Cash Flow forecasting & Monitoring, Co — ordination and submission of financial accounts, audits and the annual planning budget.
Coordinating and timely completion of Internal and External Audits Statutory Compliances.
Ensuring compliance with other statutory bodies, current changes in the law.
Ensuring the maintenance of an up to date accounting database with the modern accounting software system.
Ensure and implement necessary internal control system within the organization.
Assist the management in making financial decisions for the company.
Prepare the financial statements and business activity reports.
Eligibility:
Chartered Accountant /ACCA with 3 Years of work experience
MBA Graduates in Finance with at least 5 Years of work experience in the accounts and finance department.
Interested Individuals are requested to send their application and resume and testimonials to the front desk of this college or at the email address [email protected] on or before December 8, 2021.
SPA College
Dhangadhi, Sudurpaschim Province
9815684158, 091-520392
Website: www.spa.edu.np
Sudurpashchim Pradesh
Dhangadhi
Job Vacancy