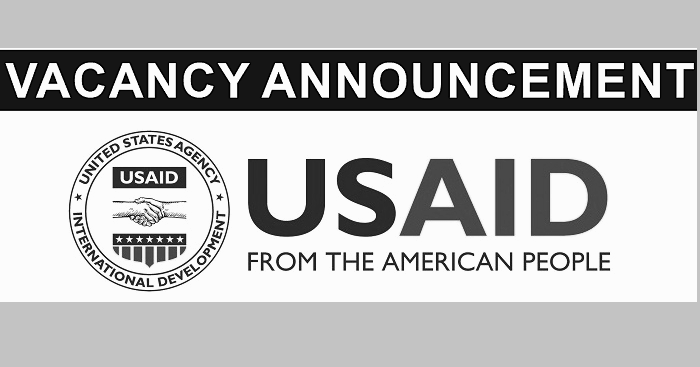 USAID/Nepal invites applications for employment from all interested and qualified candidates for the position of Inclusive Electoral and Political Processes Specialist (IEPP) in the Democracy and Governance Office, as a Locally Employed Staff under a Personal Services Contractor (PSC). This solicitation in no way obligates USAID to award a PSC contract, nor does it commit USAID to pay any cost incurred in the preparation and submission of the offers, and is subject to the availability of funds.
USAID/Nepal is an equal opportunity employer committed to a staff composition that reflects the social and ethnic diversity of Nepali society. We believe that social inclusion and diversity contribute to excellence. USAID/Nepal makes hiring decisions without regard for gender, gender identity, caste, race, ethnicity, disability, marital status, age (if over 40), or sexual orientation. Applicants from ALL backgrounds are encouraged to apply.
OPEN TO: Cooperating Country Nationals - The position is open to Cooperating Country Nationals, which means an individual who is a Nepali Citizen, or a non-cooperating country citizen lawfully admitted for permanent residence in Nepal
POSITION: Inclusive Electoral and Political Processes Specialist (IEPP)- FSNPSC-11
OPENING DATE: February 6, 2023
CLOSING DATE: February 20, 2023 — 5:00 P.M. Kathmandu time
WORK HOURS: Full-time; 40 hours/week
NOTE: THE SUCCESSFUL APPLICANT MUST HAVE THE REQUIRED WORK AND/OR RESIDENCY
PERMITS TO BE ELIGIBLE FOR CONSIDERATION.
BASIC FUNCTION OF THE POSITION:
The Inclusive Electoral and Political Processes Specialist (IEPP), FSNPSC, serves as USAID/Nepal's expert advisor and program manager on election, legislative and political processes. The Specialist must have specific technical expertise related to electoral, legislative and political processes, especially the inclusion of marginalized groups in decision-making processes.
The Specialist must be highly motivated and capable of working successfully with the Democracy and Governance (DG) team, wider USAID mission, with other US agencies, development partners, government institutions, civic and political leaders and women, youth and marginalized groups. S/he should be able to communicate with a wide variety of stakeholders to create strong, inclusive networks that benefit a shared U.S. - Nepal vision for a stronger, more inclusive electoral and political landscape in Nepal. S/he will be a principal Elections and Political Processes (EPP) advisor to the DG Office. S/he will also provide technical advice to other offices within USAID on how broader election, legislative and political processes issues relate to sectors such as health, environment, education, etc.
The Specialist will monitor the implementation of technical assistance and capacity building programs under election, legislative, and political processes initiatives. As appropriate, the Specialist will provide technical direction and leadership to implementing partners (contractor, subcontractors and grantees) carrying out election, legislative and political processes programs, ensuring that these programs are effectively implemented in the field and in accordance with the approved work plan and scope of work.
The Specialist will also maintain close and frequent communication with the election commission, members of federal and provincial parliament, members of a range of political parties, senior officials at relevant ministries, and national and provincial level civil society organizations. S/he will liaise particularly with those who are working towards greater inclusion of women, youth and marginalized groups in electoral and political processes. The DG team will rely upon the Specialist's technical advice and knowledge of election, legislative and political processes actors in shaping the future direction of partnerships in these sectors. The Specialist will also maintain close and frequent communication with other donors, civil society organizations, media, NGOs, service providers, universities and multi-stakeholder forums as appropriate to ensure enhanced performance of USAID activities in these sectors.
The IEPP Specialist maintains close communication with the Development, Outreach and Communications team to nsure that USAID's partnership with Nepal's stakeholders working to strengthen the electoral and political processes are shared widely.
REQUIRED QUALIFICATIONS:
Education: The Specialist is required to have a Master's Degree in a relevant field: law, political science, gender equality and inclusion, sociology, international relations, development, or related field.
Prior Work Experience: At least five years of professional experience in a related field and demonstrated prior experience working with women, youth and/or marginalized communities. Experience working on relevant sub-national level issues is required.
Language Proficiency: Fluency in both spoken and written Nepali is required. The Specialist requires at least the second highest level (4/4) scoring for English reading, writing and speaking. Knowledge of an indigenous language spoken by minority groups is advantageous.
Job Knowledge: Specific technical knowledge is required related to the inclusion of women, youth and/or marginalized communities in electoral and political processes at the sub-national level. The knowledge of GON's policies related to elections and political processes, including advanced knowledge of relevant laws and regulations is required. The ability to transfer technical knowledge of democracy, rights and governance areas into project designs, project reports and policy papers, and other technical areas is required. S/he requires the ability to manage development assistance programs or the capacity to develop these skills within a short time.
Skills and Abilities: The Specialist successfully demonstrates the following skills and abilities:
Appreciation for a workplace environment that promotes diversity, equity and inclusion and that does not tolerate harassment, exclusion, and inequality.
Strong network development and convening skills that bring diverse stakeholders together and create space for dialogue.
Strong organizational skills and the ability to work independently with little supervision.
Excellent communication, presentation and interpersonal skills that support diversity, inclusion and accessibility.
Ability to think and work politically and transfer political economy analysis into recommendations for project designs, and to help inform evolving US policy positions on a range of political issues
Ability to work in a team environment
Capacity to prepare analytical documents and presentations in English with minimum editing.
Ability to work effectively under pressure and demonstrate flexibility to manage more than one task at a time.
Ability to conduct frequent field visits.
Sufficient computer skills to conduct work
A detailed job description for the position can be obtained by visiting USAID/Nepal's website at http://www.usaid.gov/nepal/careers or by requesting USAID/Nepal's Human Resources Office ([email protected]).
Interested applicants should submit a cover letter and a resume - not to exceed 3 pages - and any other documentation that addresses the qualification requirements of the position as listed in the full job description. Please provide names of three references and their contact numbers and email addresses as well. Please send your application to the attention of USAID/Nepal Human Resources Office, U.S. Embassy Maharajgunj, G.P.O. Box. 295, Kathmandu, Nepal. Applications may be sent electronically to: [email protected]
Only short-listed applicants will be contacted to participate in the hiring process.
USAID 1 NEPAL
FROM THE AMERICAN PEOPLE
VACANCY ANNOUNCEMENT
(Announcement Number: 23-03)
Job Vacancy
INGO Jobs