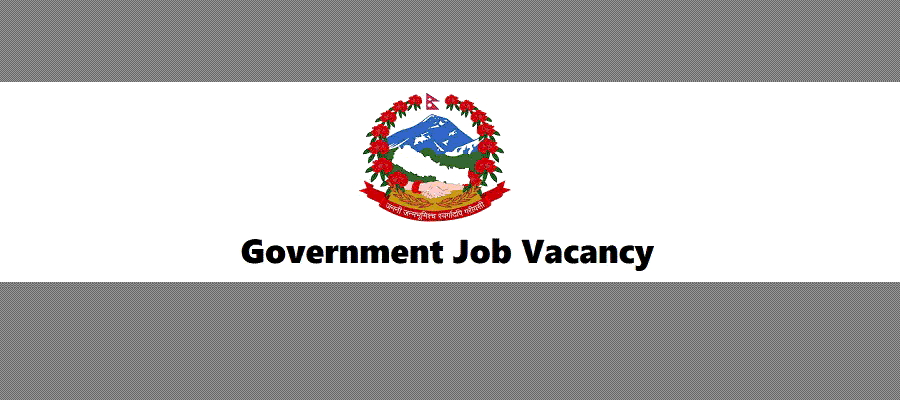 Yashodhara Rural Municipality, Office of Rural Municipal Executive, Baidauli, Kapilvastu, Lumbini Province, Nepal invites job Vacancy for Program Coordinator and Volunteer Field Facilitator
As per the decision of the Information Promotion and Livelihood Program Implementation Committee for Good Governance and Development under the Innovation Partnership Fund of Yashodhara Rural Municipality dated 2079/2/16, good governance and development as per the agreement between the Office of the Chief Minister and Council of Ministers, Local and Province Governance Program, Butwal and Yashodhara Rural Municipality. Since the Information Promotion and Livelihood Program has been approved, the following posts will have to be filled during the program period in the service contract. This information has been published for the information that the interested Nepali citizens who have reached the following qualifications should submit an application to this office within 15 days from the date of publication of this notice along with the required details and receipt of payment of revenue. Application forms can also be downloaded from the office's website www.yasodharamun.gov.np or obtained from this office.
Details:
| | | |
| --- | --- | --- |
| Positions | Req. No. | Exam Fee |
| Program Coordinator | 1 | 1200 |
| Volunteer Field Facilitator | 2 | 700 |
1. Minimum educational qualifications and experience required:
Graduated from a recognized educational institution for the post of Program Coordinator.
Passed proficiency certificate level or equivalent from a recognized educational institution for the post of volunteer field facilitator.
2. Documents to be attached to the application: Certified copy of Certificate of Educational Qualification (Certificate of equivalence from the University of Nepal if educational qualification outside Nepal) Copy of Certificate of Nepali Citizenship, Certificate of Certificate if experienced, and Certificate of Certificate if other.
3. Age limit of the candidate: Must have reached 18 years and not exceeded 45 years by the last date of application.
4. Service contract period: throughout the program period
5. Employee Remuneration: As prescribed in the program.
6. Type of Examination: To be conducted in Yashodhara Rural Municipality in accordance with the Term of Service Management, 2076 (with amendments).
7. the Last date to apply: 2079 | 02.31 within office hours and in case of leave on the same day, officially opening day.
8. Place of application: Baidauli Kapilvastu, Office of Yashodhara Rural Municipality, Office of Rural Municipal Executive.
9. For more information: To contact Yashodhara Rural Municipality Office or 9857054843.
First published date: 2079-02-17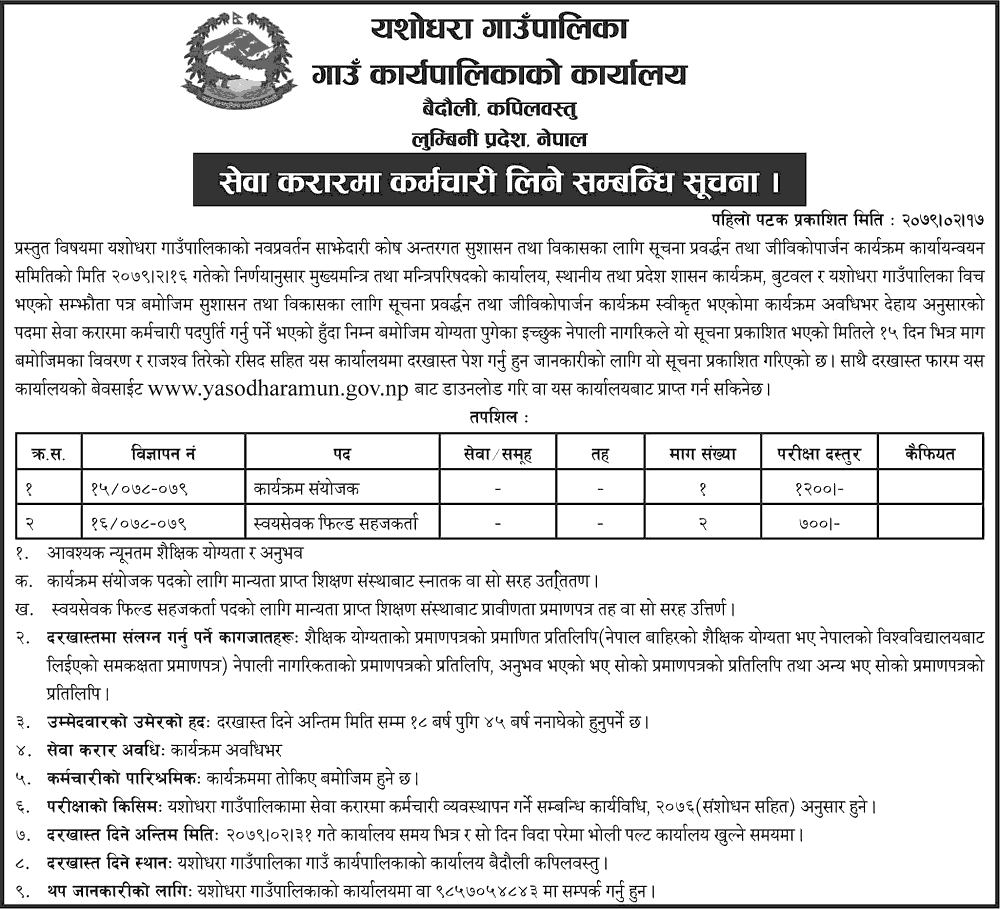 Kapilvastu
Job Vacancy
Government Job