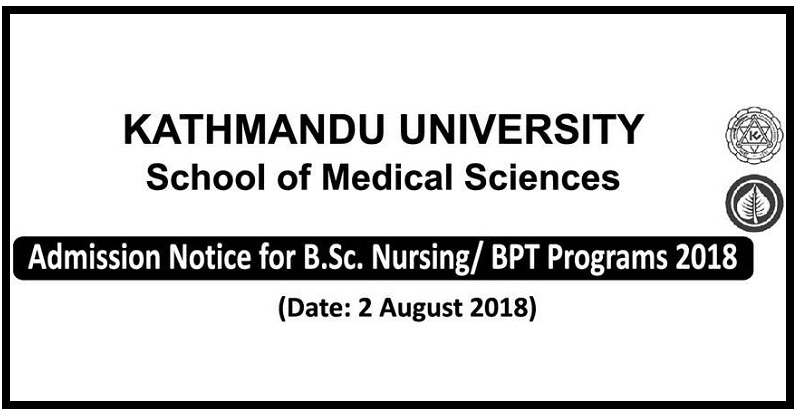 Admission Notice for B.Sc. Nursing/ BPT Programs 2018 at Kathmandu University School of Medical Sciences (KUSMS)
Applications are invited for the B.Sc. in Nursing/Bachelor of Physiotherapy (BPT) program under Kathmandu University.
The applicants must fill up and submit online application form from www.kusms.edu.np with a copy of bank voucher of Nepal Investment Bank worth NRs.3000/- each form (non-refundable), deposited in the name of KUSMS Account Number: 00505030017934 on or before 15 August 2018. Deposit can be made through any branches of Nepal Investment Bank.
Candidates who have submitted online application forms need to COLOR print their Admit Card by themselves and must bring on the day of entrance test. Candidates without their Admit Card will NOT be allowed to enter Examination Center
Eligibility Criteria
The Candidate must have:
Completed 10+2 year of education or equivalent qualification with Minimum 2.4
GPA in aggregate and minimum C+ in Physics, Chemistry and Biology separately and minimum C in other subjects. Or
Completed 10+2 year of education or equivalent with Physics, Chemistry, Biology and English and should have secured an aggregate of 50% or more marks in the subjects mentioned above put together and aggregate of 50% overall. (Non-grading system)
Entrance Examination: Date, Time and Venue
This Examination will be valid for the Academic Year 2018 only.
Candidates are instructed to read their eligibility criteria before depositing the bank voucher and submission of online application.
Candidate submitting wrong information in their online application form will not be allowed to enter counseling session even though the candidate may have passed the Entrance Examination. Such candidate's entrance examination will be automatically cancelled if it does not meet the requirements of the University.
Kathmandu University School of Medical Sciences