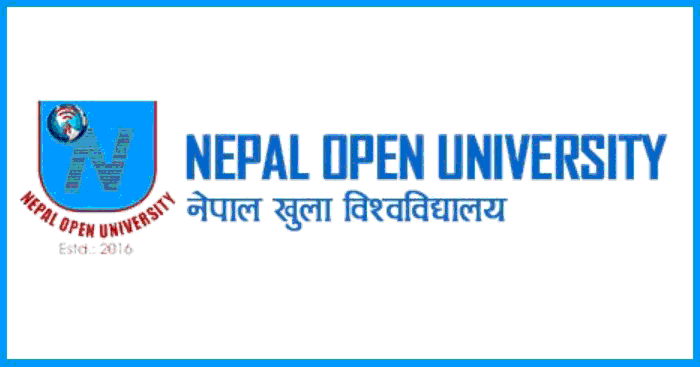 Nepal Open University, Faculty of Management and Law, Man Bhavan, Lalitpur invites admission applications for MBA, MSDMG, LLB, and BBS programs.
This notification regarding the invitation for admission applications for the academic session 2079/80 under the management and law faculty of Nepal Open University has been published for the information of all concerned.
1) Master of Business Administration (MBA): 2 Year Semester Post Graduate Program
Minimum Qualification: At least 3 years Bachelor's degree in any discipline with a second class pass.
2) Master of Science in Development Management and Governance (MSDMG): 2-Year Semester Post Graduate Program
Minimum qualification: Passed at least 3 years in any discipline.
3) Bachelor of Law (LLB): 2-year annual degree program minimum
Eligibility: 3 years graduation in any discipline.
4) Bachelor of Business Science (BBS): 3 years annual bachelor program minimum
Qualification: 12th class pass or equivalent.
Admission application form: Go to the Student Panel of the university website www.nou.edu.np and fill out the online form through the Entrance portal.
Applicants have to scan and upload certificates that meet the specified qualifications for the relevant educational program.
Last date for submission of application: 2079 Poush 5th (20th December 2022)
Entrance Exam:
MBA : Year 2079 Poush 23rd, Saturday morning at 85:30
MSDMG: 23rd of Poush 2079, Saturday at 3:00 PM
LLB: 2079 Poush 30th, Saturday morning at 8:30 am
The entire entrance exam will be conducted online mode.
Application Fee MBA: Rs.1200, MSDMG: Rs. 1200, LLB: Rs. 1000, and BBS: Rs. 300 application fee in the name of Nepal Open University to Global IME Bank Limited, Kirtipur branch current account no. 0501010000502, the applicant must mention his name and deposit it and scan the voucher and upload it along with the application form.
Contact Mobile Number: 9863648016
Nepal Open University, Faculty of Management and Law, Man Bhavan, Lalitpur
Contact Phone No.: 01-5008048, 01-5008047,
Dean's Office: 01-5008262
Web: www.nou.edu.np
(First published date: 2079-08-01)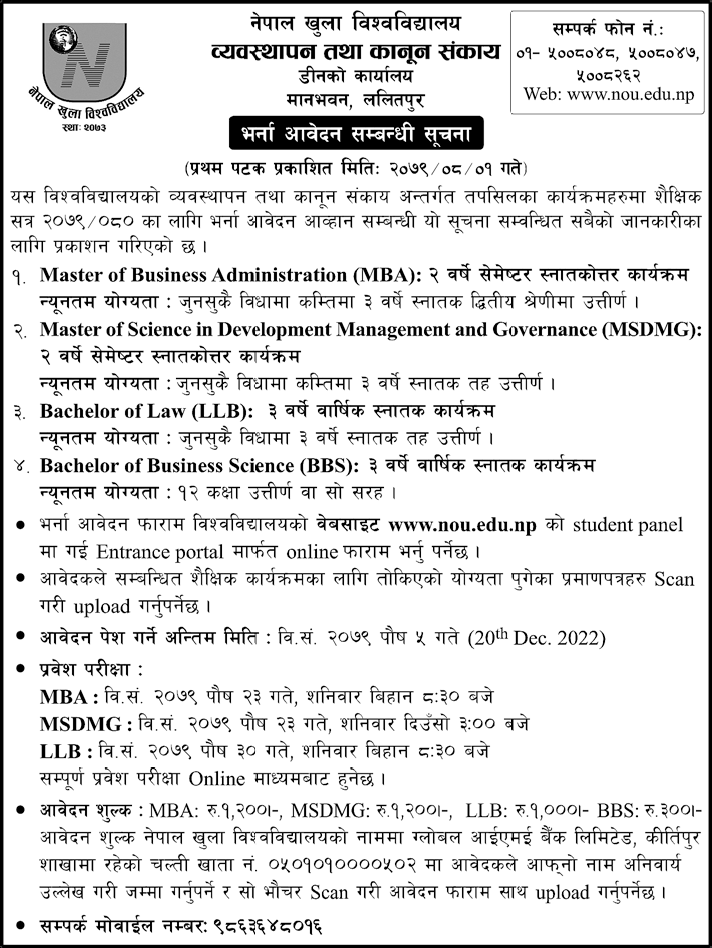 Admission Open
Notice
MBA Admission