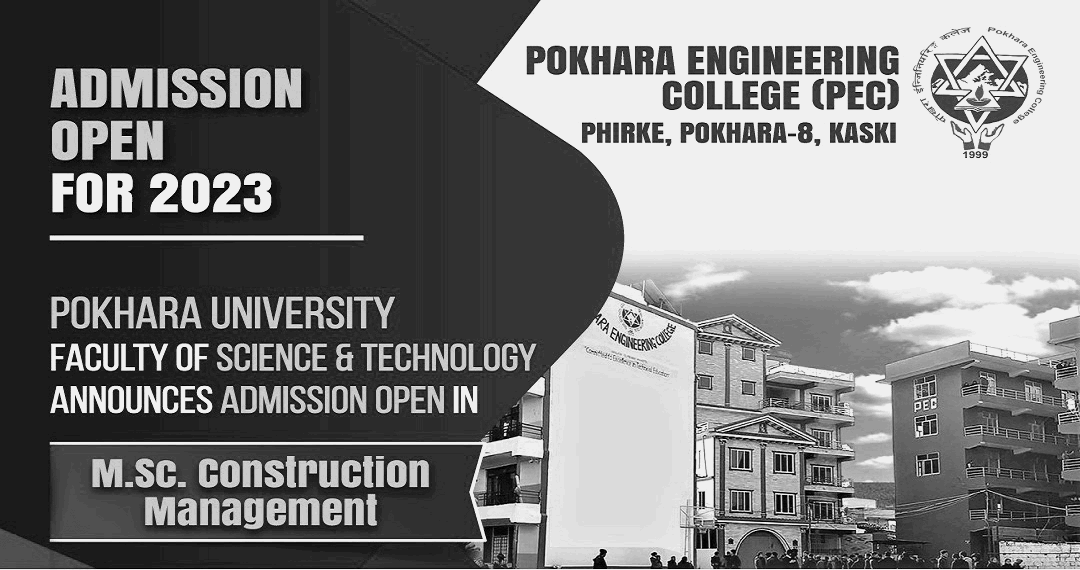 MSc in Construction Management Admission Open 2023 at Pokhara Engineering College
Enroll in M.Sc. Construction Management at Pokhara Engineering College (PEC) for the 2023 academic session. Here is everything you need to know about the admission process:
Eligibility Criteria:
- The program is open to candidates who have completed their B.E. in Civil, Mechanical, Geotechnical, Hydropower, Electrical & B. Architecture from a recognized university.
- Applicants should have a minimum of 2 CGPA or 45% marks.
Important Dates and Time:
- The last date for application submission is 26 Baisakh, 2080.
- The entrance examination will be held on 30 Baisakh, 2080, from 7:00 a.m. to 10:00 a.m.
- The exam center is the School of Engineering, Pokhara University.
Category and Intake:
- The program is available under Category D.
- The total intake is 30 seats, with 27 seats available under the paying category and 3 seats available under the scholarship category.
How to Apply:
- Interested candidates can apply online through the official website of Pokhara University Faculty of Science & Technology at www.pu.edu.np/fst/admission-notice.
- The application fee can be paid through online banking or at the college counter.
- For any queries, applicants can contact PEC through phone at +977-061-581209 or +977-9856023584 or email at [email protected].
Why Choose PEC?
- PEC is a reputed college that offers quality education in engineering and technology.
- The faculty is highly qualified and experienced in their respective fields.
- The college has state-of-the-art facilities and infrastructure to support students in their academic pursuits.
- PEC provides opportunities for practical training and industry exposure, which are essential for professional development.
Why M.Sc. in Construction Management?
M.Sc. in Construction Management is a specialized program that offers a comprehensive understanding of the principles and practices involved in managing construction projects. Here are some reasons why pursuing an M.Sc. in Construction Management can be a great choice:
High Demand: The construction industry is one of the fastest-growing industries globally, and there is a high demand for skilled professionals in this field. An M.Sc. in Construction Management equips you with the knowledge and skills required to meet this demand and excel in your career.
Career Growth: With an M.Sc. in Construction Management, you can explore a wide range of career opportunities in construction and related industries. You can work as a project manager, site manager, construction engineer, or construction consultant, among other roles.
Specialization: The program allows you to specialize in a particular area of construction management, such as cost management, risk management, project scheduling, or procurement. This specialization can help you stand out in the job market and enhance your career prospects.
Higher Salary: An M.Sc. in Construction Management is a valuable qualification that can lead to higher salary packages and better career growth opportunities.
Learning Opportunities: Pursuing an M.Sc. in Construction Management offers you the chance to learn from experienced professionals in the field and gain practical insights into real-world construction projects.
Overall, an M.Sc. in Construction Management can be an excellent choice for those interested in pursuing a career in the construction industry and seeking professional growth and development.
Admission Open
Pokhara