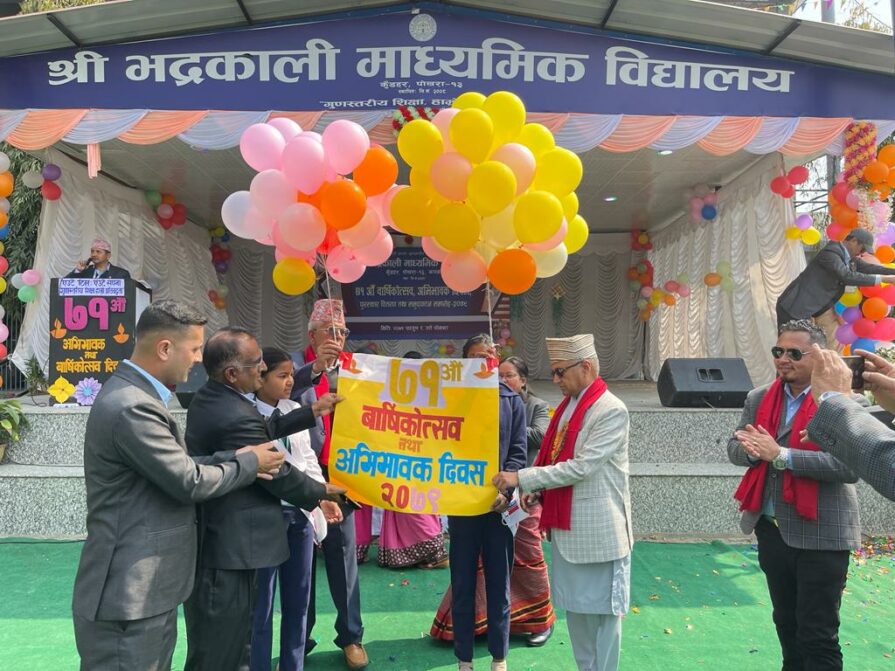 Bhadrakali Secondary School in Pokhara celebrated its 71st anniversary and Parents' Day with a grand program held on Monday. The event was graced by the presence of Gandaki Province Chief Minister Khagraj Adhikari, who inaugurated the school building and the provincial gate.
Importance of Education Free from Politics
In address, the Chief Minister stressed the importance of keeping schools free from political activities. He highlighted that the quality of education has been compromised in some areas due to the involvement of teachers in politics. He urged that politics should be kept away from educational activities to improve the quality of education.
Linking Education with Skills and Market
The Chief Minister also emphasized that the current education system needs to be revamped to make it more useful for life. He urged the three levels of government to show that education can be linked with skills and market. He further added that constructing buildings for government schools with huge investments is not important if the quality of education is not maintained.
The Program and Attendance
The program was chaired by School Management Committee Chairman Lok Bahadur Karki and attended by Provincial Minister of Agriculture, Energy and Water Supply Ved Bahadur Gurung Shyam. 1,911 students from pre-nursery to 12th grade are currently enrolled in the school, which was established 70 years ago by the activities of the first local Dhewaju family. Headmaster Rajendra Bhandari highlighted that the school is moving forward with the slogan of 'one team, one dream, quality education is our commitment' with 89 teachers and staff.
Quality Education and Enrollment Rate
Assistant Principal Lokchandra Khanal mentioned that the quality of education and corresponding results have led to a rapid increase in enrollment rates. However, cost management is becoming a challenge due to the many teachers and staff who receive service facilities from school sources apart from the grant from the Government of Nepal.
Musical and Entertaining Performances and Awards
Students from pre-nursery to 12th grade showcased various musical and entertaining performances during the event. More than two dozen awards established in the school were presented on the occasion. The Akshaya Kosh donors, those who helped in the construction of the school building, and Muldoor were also honored on the occasion.
Bhadrakali Secondary School's 71st anniversary and Parents' Day was a grand celebration of the school's commitment to quality education. The event highlighted the importance of keeping schools free from politics and revamping the education system to link it with skills and market.
Annual Day
Pokhara