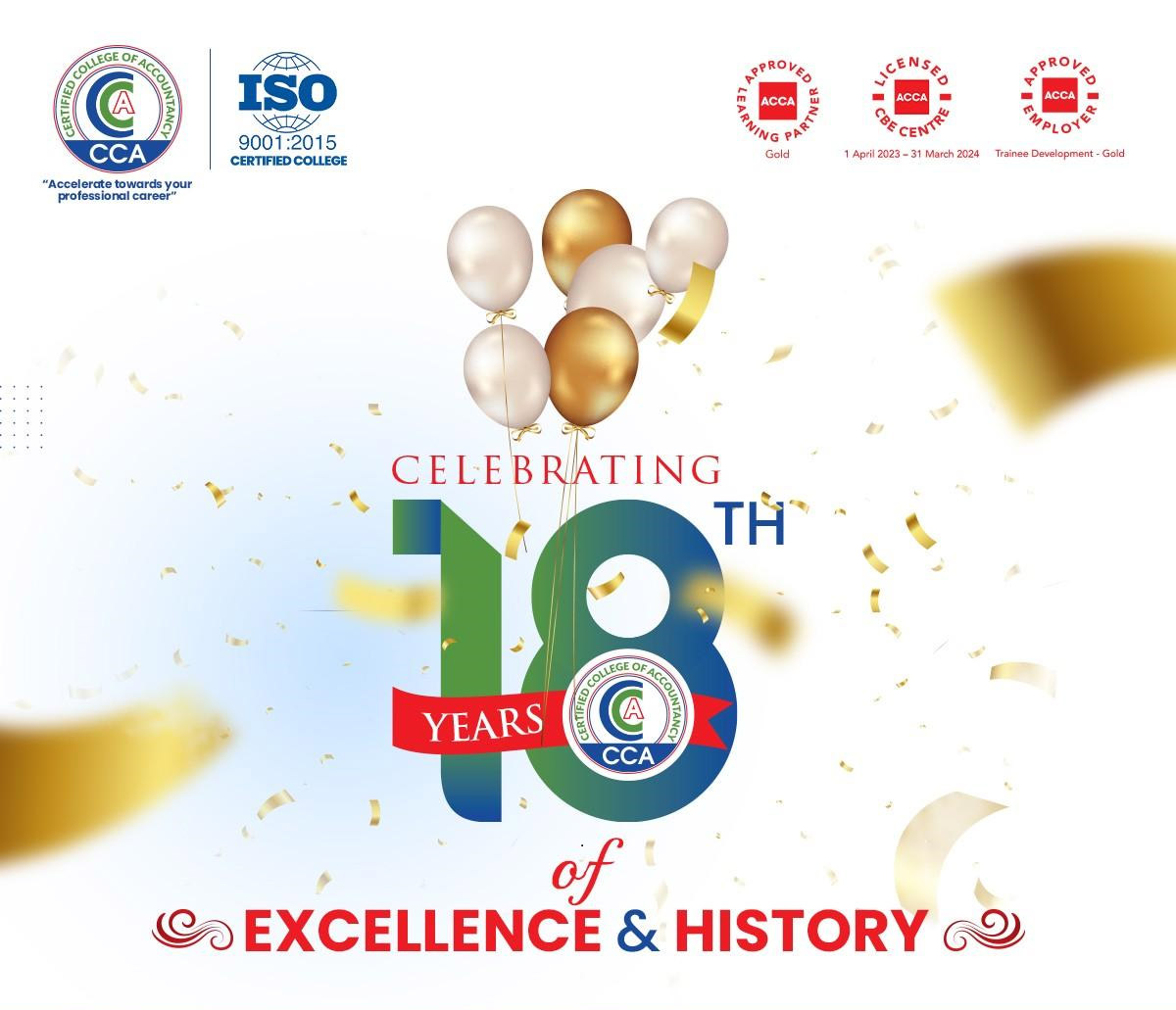 CCA College Celebrates 18 Years of Excellence for ACCA Education
Setting the Benchmark for ACCA Education in Nepal
Certified College of Accountancy (CCA) isn't just another institution; it's a cornerstone in the ACCA education landscape in Nepal. This prestigious institution is reveling in its 18th year of unmatched excellence, demonstrating its consistent commitment to molding future leaders in finance and accounting.
Why CCA College Stands Out
ACCA Approved Learning Partner: CCA College not only offers top-notch ACCA classes but also holds the unique status of being an ACCA Approved Learning Partner. This seal of approval ensures that you're receiving education aligned with global quality standards.

ISO Certified: The college takes pride in being the only ISO-certified ACCA institution in Nepal, highlighting its dedication to quality and academic excellence.

High Pass Rates: With the highest pass rates among all ALPs in Nepal, the college's teaching methodologies have proven to be effective time and again.

Experiential Learning: CCA goes beyond classroom education. The college facilitates 36 months of articleship at reputable audit firms, ensuring that students get a balanced mix of theory and practical exposure.

Career Opportunities: If you're an ACCA student or a graduate, the college provides impeccable placement services, associating students with top-tier financial organizations in Nepal.
Crafting Futures: 18 Years and Counting
The CCA Advantage
For nearly two decades, CCA College has been the go-to choice for aspiring ACCA professionals. What once began as an alternative to traveling abroad for ACCA studies, CCA College has now firmly established itself as the epitome of ACCA education within Nepal's borders.
Alumni - The Pillars of CCA's Legacy
Nothing speaks louder than success, and CCA's alumni are a testament to the institution's efficacy. From making waves in the global finance arena to holding pivotal roles in major organizations, the college's alumni network is expansive and influential.
The Road Ahead: A Commitment to Continuous Innovation
As CCA College celebrates this significant milestone, it also sets its sights on the future. The institution plans to elevate its educational offerings further, adhering to its core values of innovation, ethics, and excellence. The vision is unambiguous—CCA College aims to set newer benchmarks in ACCA education, crafting a legacy that stands the test of time.
Wrapping Up: 18 Years of Academic Triumphs
Celebrating 18 years is not just about looking back at the myriad of achievements; it's also about envisioning a future teeming with opportunities. Happy 18th Anniversary, CCA College! Your sustained commitment to excellence ensures that the path to success remains illuminated for generations to follow.
In essence, whether you're an aspiring finance professional or looking to make a mid-career switch, CCA College offers an ACCA education that is both comprehensive and future-ready. So, make the informed choice and be part of a legacy that defines success in the finance and accounting world.
Annual Day