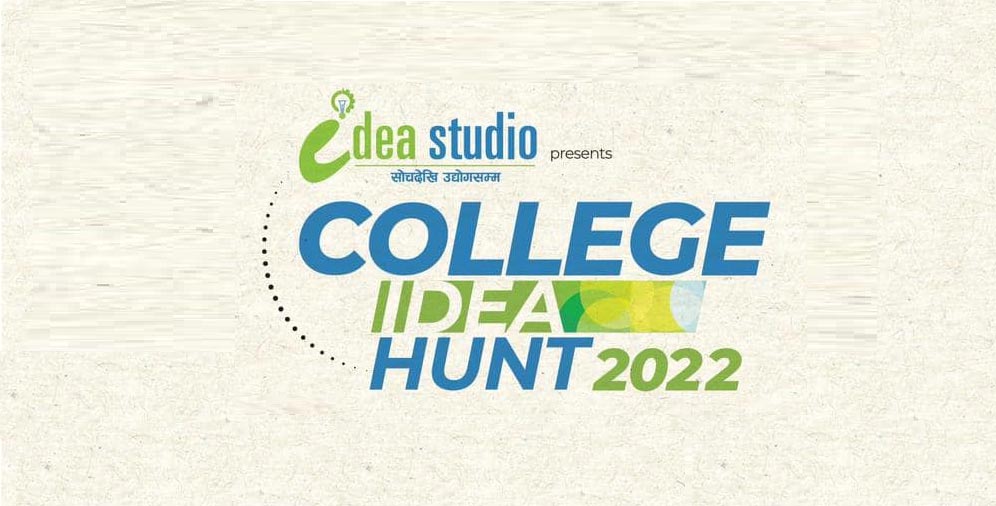 Idea Studio Nepal presents College Idea Hunt 2022 as a platform for students to start their entrepreneurship journey. The aim of the program is to promote practical knowledge to turn the text into context. The program provides students with the knowledge, investment, and pitching opportunities to pave the way toward their startup venture In the program, the top three winners will receive Rs 1 lakh each and will get direct entry into the Idea Studio season 6 incubation program and television show.
College Idea Hunt is a Business Incubation Programme exclusively for students in Nepal.
Students from all faculties can apply.
Prioritizing Greenovation and Socially-just business ideas.
Opportunity to participate in the Lab Based models workshop to develop 21st Century Skills sets developed in partnership with Oulu University of Applied Sciences Finland and the New Venture Creation Incubation program developed in partnership with MIT and KUSOM.
Opportunity to be a part of business incubation, mentorship, and networking programme.
Opportunity to present ideas to the wider audiences including renowned personalities of Nepal, though I have an Idea, the grand finale event of College Idea Hunt.
Top 3 winners receive Rs. 1,00,000 cash prize each and continuous mentorship support along the journey.
The winners also get DIRECT ENTRY to a National level Incubation Programme and the business Reality Television Show.
Where they will receive hands-on learning, mentorship, and networking opportunities to transform their ideas into businesses and further business investment opportunities.
All the applicants will need to follow the program rules and terms of conditions. Please check eligibility requirements and further details here, if you have further questions, send us an email at [email protected] and call on 9801178787.
Check our blog on "Why apply to Idea Studio College Idea Hunt?"