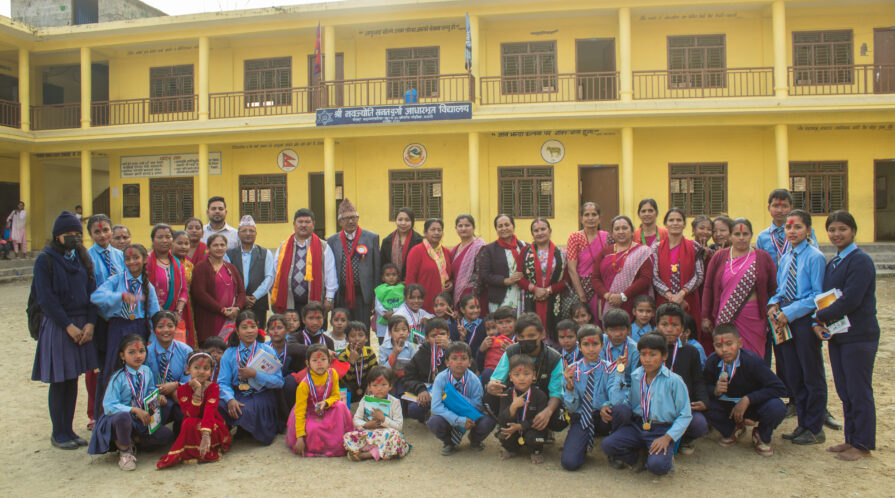 Navajyati Sanat Durga Basic School Celebrates 32nd Anniversary and Community Support for Education in Pokhara 30
Navajyati Sanat Durga Basic School in Pokhara 30, Apadanda celebrated its 32nd anniversary, parents' day, and award distribution program in a grand ceremony. The event was attended by various prominent personalities from the local community, including ward president Durga Prasad Subedi, who expressed the ward's commitment to supporting the education sector financially.
The ceremony was also graced by School Management Committee Chairman Narayan Prasad Subedi, School Building Builder Sanat Kumar Shrestha, and Pokhara Metropolitan Executive Member Bhim Kumari Pun, among others, who spoke on the occasion. Additionally, Uma Periyar, Vinod Prasad Lamichhane, and Narayan Prasad Paudel, Chairman of Tribhuvan Shanti Model Secondary School Management Committee, were also present.
The event also saw participation from various community organizations and institutions, including Kedar Lamichhane, Chairman of the Infectious Disease Hospital Mohoria, Mitralal Sapkota, School Management Committee Advisor, Chiranjeevi Tiwari of Civil Charity Coordinating Organization, Bishnu Prasad Paudel of Amarsiddh Model School, Amrita Tiwari of Shanti Basic School, Principal of Neighbor School, Rama Paudel, and others.
Krishna Tiwari, Talchok Secretary of Lekhnath Community Savings and Credit Cooperative, donated sports materials to the school, encouraging physical activity among the students. The program was conducted by the school's founder, Prof Leelamani Tripathi, and teacher Sanju Vanjara.
Overall, the ceremony served as an excellent opportunity for the school to celebrate its achievements and honor the hard work of its staff, students, and parents. The generous contributions and commitments made by the local community leaders and organizations also underscored the importance of education and collaboration in building strong and thriving communities.
Annual Day
Pokhara