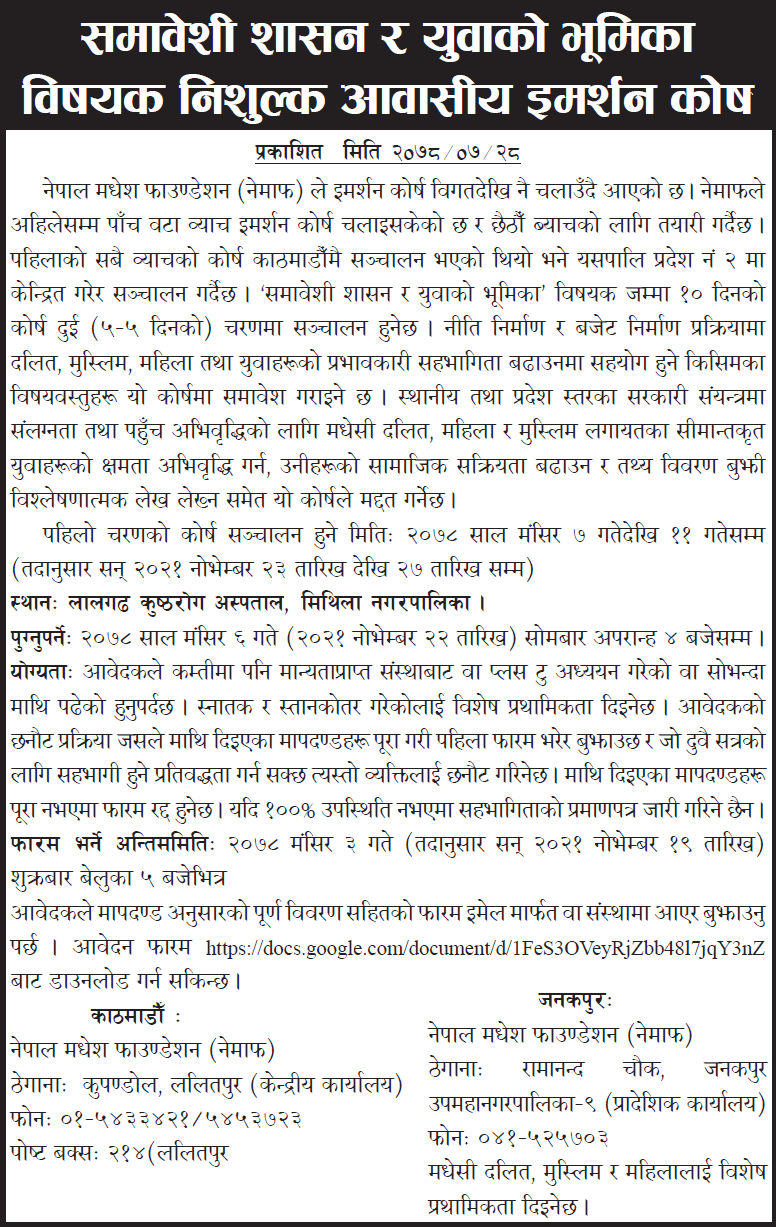 Free residential immersion course on inclusive governance and youth role: Nepal Madhes Foundation (NEMAF) has been running Immersion Course since the past. NEMAF has so far run five batch immersion courses and is preparing for the sixth batch.
Earlier, the course of all the batches was conducted in Kathmandu, but this time it is being conducted in Province No. 2. A total of 10 days course on 'Inclusive Governance and Role of Youth' will be conducted in two (5-5 days) phases.
Topics that will help increase the effective participation of Dalits, Muslims, women and youth in the policy making and budgeting process will be included in this course.
The course will also help to increase the capacity of marginalized youths including Madhesi Dalits, women and Muslims to increase their involvement and access to local and state level government mechanisms, increase their social activism and write factual analytical articles.
Date of conducting the first phase of the course: From 7th to 11th of Msngsir, 2078 (Accordingly, from 23rd to 27th of November, 2021)
Venue: Lalgadh Leprosy Hospital, Mithila Municipality. Must Arrive: Monday, November 6, 2071 (November 22, 2021) by 4 p.m.
Eligibility: The applicant should have studied at least from a recognized institute or Plus Two or above. Special priority will be given to undergraduates and postgraduates. The selection process of the applicant who fills in the form first by fulfilling the above criteria and who can commit to participate for both the sessions will be selected. Forms will be canceled if the above criteria are not met. If 100% attendance is not present then certificate of participation will not be issued.
Deadline for filling the form: 2078 Mangsir 3rd (accordingly, November 19, 2021) Friday at 5 pm
The applicant should submit the form with full details as per the criteria by email or by visiting the institution. The application form can be downloaded from https://docs.google.com/document/d/1FeS3OVeyRjZbb48l7jqY3nZ
Kathmandu:
Nepal Madhes Foundation (NEMAF)
Address: Kupandol, Lalitpur (Central Office)
Phone: 01-5433421 /01- 5453723
Post Box: 214 (Lalitpur)
Janakpur:
Nepal Madhes Foundation (NEMAF)
Address: Ramananda Chowk, Janakpur
Sub-metropolitan-9 (Regional Office)
Phone: 041-525703
Special priority will be given to Madhesi Dalits, Muslims and women.
Published date 2078-07-28
Free Training
Madhesh Pradesh
Training