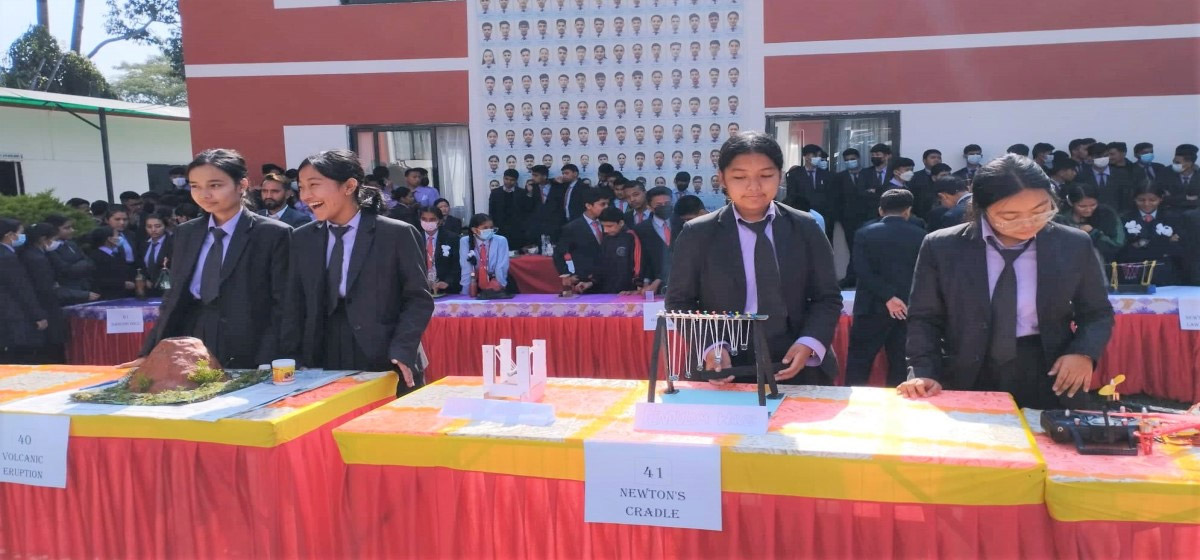 Students of Prativa Secondary School, Pokhara prepared science materials within a month. Management students prepared a 'business plan'. The same science materials made by the students were put on display on Friday. The business plan will be presented on Saturday. Students from classes 8 to 12 participated in this exhibition. Science students of classes 11 and 12 participated in the exhibition.
According to Kiran Sapkota, director of Prativa Secondary School, Pokhara, the exhibition was organized to showcase the creativity of the students. The science material made by the students was presented in the exhibition. The students made these items at their own expense. 62 groups exhibited those science materials.
According to Sapkota, during the long holidays of Dasain-Tihar, students are not only given homework but also encouraged to make various science educational materials to make them creative. Don't burden yourself by just giving book homework. Sapkota said, "It is also the responsibility of the educational institution to bring out the knowledge and internal abilities of the students." He said that apart from studying the textbooks, the school encouraged them to show their abilities by making science materials during the one-month vacation.
The exhibition was inaugurated by Prof. Dr. Ganeshman Gurung, Chancellor of Gandaki University. Sharing his experience of working in an educational institution for a long time, Chancellor Gurung told the students that they should engage in research. 'Students should reveal their hidden talent. The underlying knowledge will not be kept hidden inside," he said.
Narayan Prasad Poudel, president of Pratibha Education Foundation, said that such science exhibitions will give students an opportunity to learn new things. This is also a discovery. "Students should bring out what is hidden inside them, always pay attention to learning new things," Paudel said, "This effort should be continued in the future." Never back down from hard work.'
Director Sapkota informed that the best group from the group of students participating in the exhibition will be awarded. According to Sapkota, 3 students are participating in each group. They have created various educational materials related to science. The group that stands first among the best will get a cash prize of Rs. The second group will get 15 and the third and fourth groups will get a certificate along with a cash prize at the rate of 7,500 rupees.
The guests including university officials participating in the program observed the materials made by the students and also took necessary information. The school has organized a presentation on 'Business Plan' on Saturday for management students of classes 11 and 12. Students of classes 11 and 12 will present their business plans to each other.
Exhibition