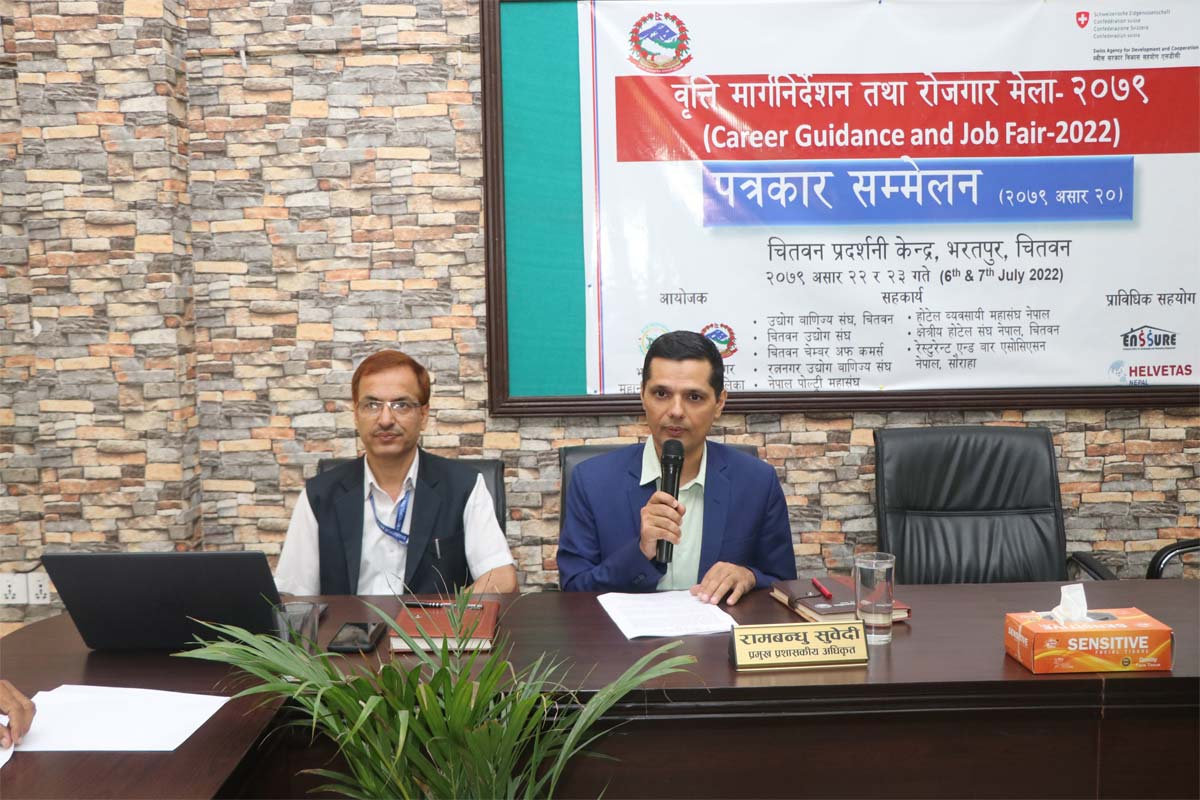 Rojgar Mela at Bharatpur Chitwan on Ashad 22 and 23 (6th and 7th July 2022): An 'Employment Fair - Rojgar Mela' is being organized in Bharatpur, Chitwan targeting youths who are wandering around looking for jobs. The fair is being held at Chitwan Exhibition Center in Bharatpur on Wednesday and Thursday (6th and 7th July 2022).
The Bharatpur Metropolitan City (Bharatpur Mahanagarpalika) and Ratnanagar Municipality have started the 'Career Guidance and Employment Fair' in coordination with employers, stakeholders, associations, and organizations targeting the youth seeking employment.
Chief Administrative Officer of Bharatpur Metropolitan City Ram Bandhu Subedi said that the fair was organized in Bharatpur as per the policy of the Government of Nepal to provide employment to the youth in the country.
A dozen organizations including Chitwan Udhyog Sangh (Chitwan Association of Industries), Chitwan Chamber of Commerce and Industry, Chitwan Chamber of Commerce, and Federation of Hotel Entrepreneurs Nepal have provided assistance for the fair.
The organizers believe that this fair will create or reach low and medium-level employment in the district.
Subedi claimed that this is the first time that such a fair is being organized at the local level in the country.'Skilled workers in industry and development work in the district are still forced to be brought from other districts and abroad. The job fair will be important to end this, "said Subedi.
He said that the job fair is being organized as a program under the concept of 'Employment Bank' included in the policy and program of the corporation.
"The fair will collect data on employers and those willing to work, provide direct employment to 200 people through the fair, and provide information on skills and training," said Subedi.
The metropolis aims to keep the data collected at the fair accessible online and launch an employment app. Stalls of all 7 local levels of the district, Jab Link and Center, and Industry and Training Centers will be at the fair.
Exhibition
Chitwan