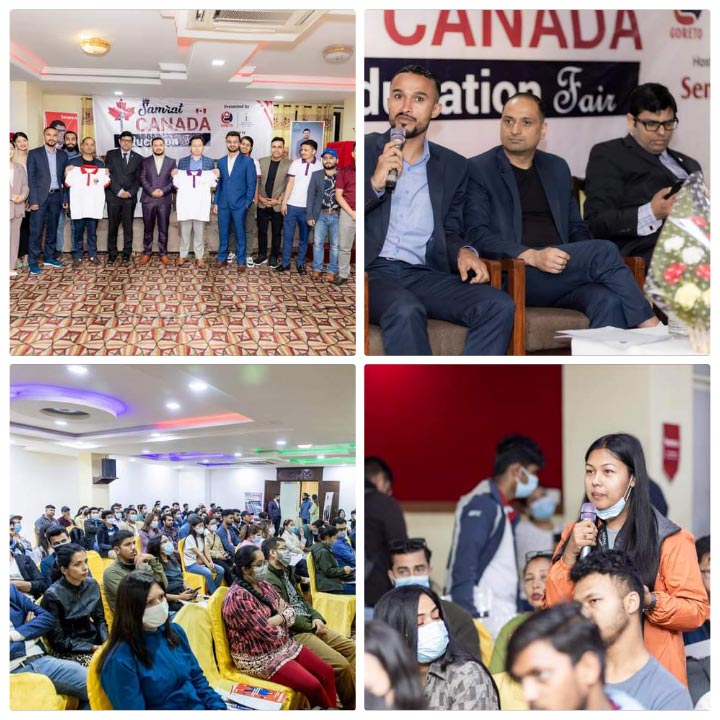 Goreto Educational Consultancy and International Career Counseling Center ICC have jointly organized Samrat Study in CANADA Education Fair at Hotel Yellow Pagoda.
According to the organizers, the event was organized with the aim of informing the students and parents about the Seneca College located in Toronto, Canada.
Canada is becoming a major educational destination for students seeking international-level educational qualifications and certifications as per the market demand.
Diploma, Undergraduate, PG Advanced Diploma, Postgraduate Nepali students at various levels are going to Canada for study.
It has been found that students are attracted to Canada for foreign education, especially for study, personality development, and post-study, and for better employment opportunities.
Among the students who want to study in the United States, Europe, Canada, and other developed countries, Canada has been the choice of students.
Ram Khadka, Senior Adviser Engineer at ICCC and Goreto Educational Consultancy, says Canada is a great destination for political stability, easy immigration policy, healthy insurance, golden employment opportunities, and PR.
Giving information about the required documents and the legal and legal criteria that the students have to fulfill, Dhiraj Kadenl, another senior advisor of Goreto, urged the students to be a little more careful in the legal process.
Welcoming the students and parents attending the event on behalf of Goreto, Prakash Regmi, Coordinator of the Consultancy, urged all those who missed attending the fair to visit Goreto and ICCC and get more information.
Prashant Srivastava, Business Development Director, Seneca College Canada, Toronto, thanked Goreto and the ICCC for their help in presenting the program.