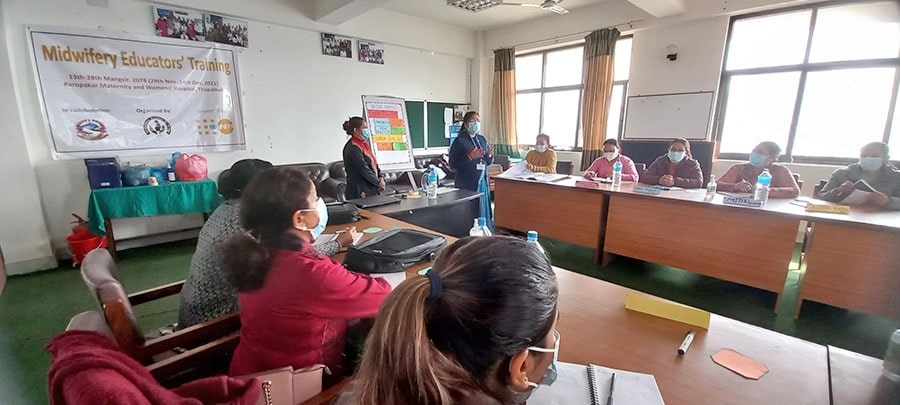 A 14-day training is being conducted for the teachers who teach midwifery (Midwfiery Educator' Training). Dr. Laxmi Tamang, President of Midwifery Society of Nepal (MIDSON) said that since the teaching of Midwifery is based entirely on efficiency, the training is aimed at providing effective training to the teachers of Midwifery.
Fourteen teachers from BP Koirala Institute of Health Sciences (BPKIHS) Dharan, Karnali Academy of Health Sciences (KAHS), Kathmandu University (KU), Maternity Home Thapathali, Bir Hospital and NAMS College are participating in the training.
The Government of Nepal has been investing in increasing the number of midwives in Nepal as the role of midwifery has been confirmed to be important in reducing sexual and reproductive rate, safe motherhood, maternal mortality and infant mortality.
The Government of Nepal has concluded that at least 9,000 midwives are needed in Nepal to achieve the Sustainable Development Goals. But since the trained nurses are working in other wards (Trauma Center, Pediatric Ward, Surgical Ward), the results have not been effective and emphasis has been laid on midwifery teaching.
Although the government introduced the policy in 2006, it has been implemented only since 2016. Accordingly, Kathmandu University has started teaching midwifery in 2016, NEMS College in 2017 and Karnali Science Academy in 2018.
A total of 29 midwifery products have been produced from these colleges so far. The Medical Education Commission has also given permission to BP Koirala Institute of Health Sciences (BPKIHS) to provide midwifery. This year BPKIHS is teaching 20 students. Midwifery is like a bachelor's degree with at least three years of study.
Although the Ministry of Health and CTEVT jointly prepared the curriculum in 2075 BS to produce three-year certificate level midwifery, teaching has not started yet.
MIDSON President Dr. Tamang said that the Nursing and Social Security Division has also formulated a strategy. Earlier, the Nursing Council had given such training three times.