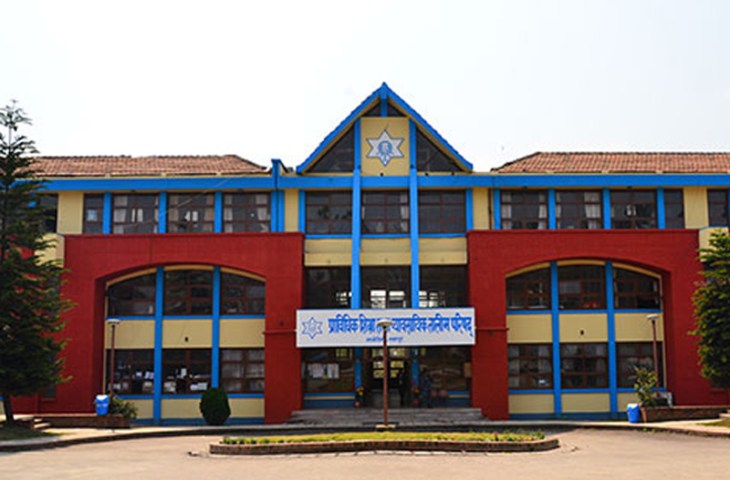 Council for Technical Education and Vocational Training (CTEVT), Examination Control Office, Sanothimi, Bhaktapur Urgent notice regarding the examination center for Chance examination of a subject in pre-diploma (formerly technical SLC) level.
Date 2078-09-27 for the educational institutes which have conducted technical education programs in the constituent, partners, community schools of the council and have conducted various programs on technical SLC level at the private level after obtaining affiliation/approval from the Council for Technical Education and Vocational Training (CTEVT). According to the information published on 2078-10-06; As per the decision of 2078-10-11, the Chance examination of one subject has been postponed (partially) as per the decision of the candidates who have submitted the application form.
This information has been published for the information of all concerned regarding the establishment of the following examination centers as per the recommendation of the concerned councils and provincial offices complying with the standards of Covid-19 Connection Management Coordination Center and the Government of Nepal regarding health security.
Date, time, and schedule of examination:
- All programs for 12 + 6 months and all programs for industrial trainees from 8:00 AM on 2078-11-07.
- All programs of 15 + 3 months from 2:00 pm on 2078-11-07
Examination Center:
1) Province 1: Jyoti Secondary School, Itahari, Sunsari
2) Madhesh Pradesh: Yajnavalakya Sanskrit Secondary School, Janakpurdham, Dhanusha
3) Bagmati Province: Madan Asrit Smriti Technical School, Gothatar, Kathmandu
4) Gandaki Pradesh: Pokhara Engineering College, Phirke, Pokhara
5) Lumbini Province: Korea Nepal Multi-Technical School, Tamnagar, Butwal, Rupandehi
6) Karnali Pradesh:
- Krishna Sanskrit and General Secondary School, Birendranagar, Surkhet (Crop Science for Agriculture, Veterinary Science and LP / AH programs)
- Education Campus, Birendranagar, Surkhet (All programs of 12+6 towards Engineering, Medical Lab Technology towards Health and all programs of 15+3 months)
7) Sudurpashchim Province: Panchodaya Secondary School, Dhangadhi
Note: This information can also be viewed at www.ctevtexam.org.np
(Information published date: 2078-11-02)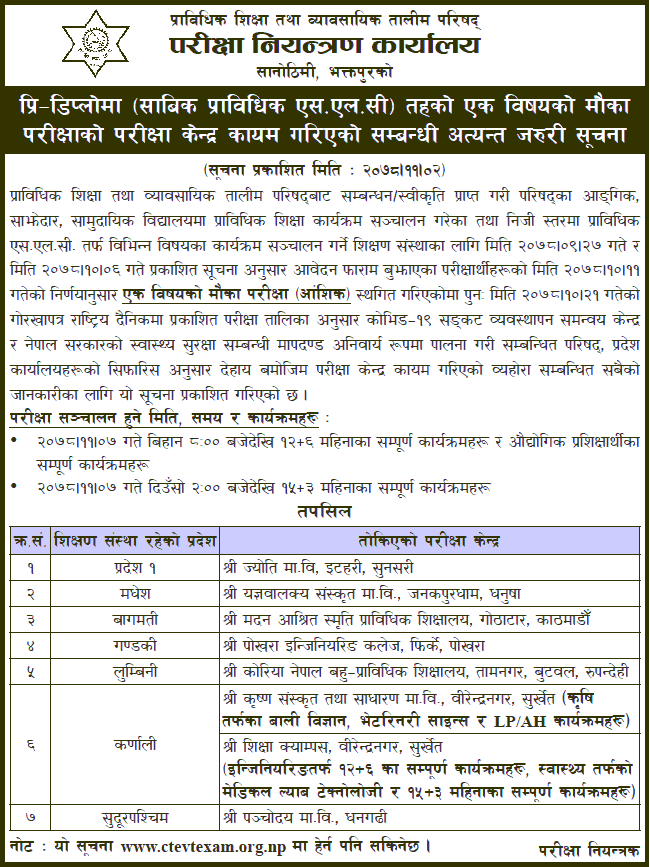 Pre-Diploma Level
CTEVT Exam
CTEVT